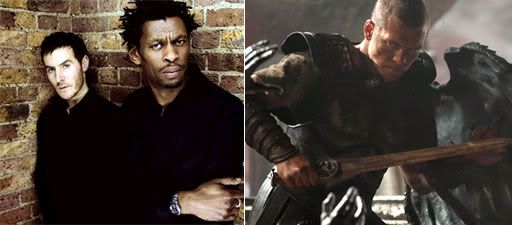 So it's been rumored for a long time that Muse, or at least singer/guitarist Matt Bellamy would be scoring Louis Leterrier's remake of "Clash Of The Titans" (I think the Playlist staff is divided on this one, this writer is taking a wait and see approach, but we did include it in our Escapist Anticipated piece). Muse admitted that they were asked to write the soundtrack (or Bellamy admitted that he was), but as /Film very recently pointed out, comments from Bellamy in the National Post (and a few other publications) indicated that he just didn't have the time.

Now that's basically been confirmed. MTV spoke to Leterrier (director of the not-bad, "Incredible Hulk" movie with Edward Norton) and he says he did in fact ask Bellamy to do about "maybe 30 minutes of music," not a full score, but he couldn't find the time in his busy touring schedule. And Craig Armstrong, who scored the 'Hulk,' was always going to be the main composer anyhow. But they've found a replacement for Bellamy in trip-hop outfit Massive Attack, again to probably do around 30 minutes of music.

"Craig Armstrong is still doing the score and I called my friend Neil Davidge from Massive Attack to replace Matt for the areas that Matt was doing. So it'll be Craig Armstrong and Massive Attack, which is pretty exciting."
We hope he actually means the full "band" because Davidge is technically only Massive Attack's defacto producer (though he was instrumental in LP4) while members Robert "3D" Del Naja and Grant "Daddy G" Marshall are really the core of the dark and moody electronic based group (Daddy G did depart from the group at one point, but seems to have returned to the fold).

Massive Attack's instrumental music has always been well-suited to soundtrack scores and Del Naja completed the score for "44 Inch Chest" with British moody spacial group The Insects and regular David Lynch composer Angelo Badalamenti sometime last year. They also scored the "Battle In Seattle" and "Trouble the Water." Davidge also scored Paul McGuigan 2009 sci-fi film, "Push."

Armstrong is not necessarily that well-known for some reason, but has been doing soundtrack work for ages (or at least 1996's "Romeo + Juliet") and he's worked with u2's Bono, Evan Dando, Photek, Mogwai, AGF and Steven Lindsay just to name a few musicians. Leterrier says he hopes to work with Bellamy in the future on some other film so it seems like soundtrack work is in his cards some day.

"Clash Of The Titans" stars Sam Worthington, Liam Neeson, Ralph Fiennes, Alexa Davalos and hits theaters March 26.