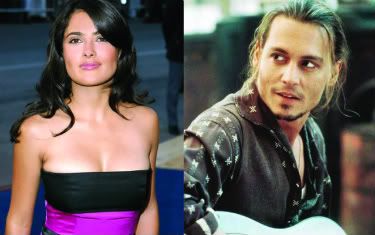 When we first reported back in December that Johnny Depp and Salma Hayek were circling a Pancho Villa biopic directed by Emir Kusturica, we wondered when Depp would have time to fit it in his schedule with filming on "The Tourist" and "Pirates Of The Caribbean: On Stranger Tides" set to take up most of his 2010 schedule. Speaking at a press conference at the Kustendorf Film Festival in Serbia, Depp confirmed that the film won't go in front of cameras until 2011.

Now working under the title "Wild Roses, Tender Roses," the film is is an adaptation of the novel "The Friends of Pancho Villa" by James Carlos Blak in which "Villa and his compadres had a great time fighting and robbing the rich, but also dancing, partying and making love." Sounds like a blast and the film is being described as "an epic in the style of Sergio Leone's spaghetti westerns and Sam Peckinpah's 'The Wild Bunch'." Kusturica also says the film will be divided into seven chapters and that "This is going to be my biggest movie. I will be doing it without compromise." Sounds pretty awesome.

Kusturica's long time collaborator Gordan Mihic has adapted the screenplay, and the director's band, The No Smoking Orchestra, will be providing music for the film. The picture will be shot in Spain and at Kusturica's studio Kustendorf in Serbia, and the film will be in Spanish (naturally).

But before he tackles Pancho Villa, Kusturica will get one more film under his belt. This summer Kusturica will head to Israel to begin work on "Cool Water," "about a male stripper who returns to his native Middle East for his father's funeral."

In related news, Depp attended the Kustendorf Film Festival in Serbia last week where he received The Award For Future Movies and was part of the Retrospective Of Greatness. He also had a full length statue unveiled in his honor. There is no word yet if Depp's ego has returned to the planet Earth. You can watch the full press conference here where the actor discusses a wide range of topics including his past films, working with directors, Obama and tattoos.

Btw, thanks for our readers for steering us in the right direction on this story. We're still recovering from the Golden Globes. And yes, Screen Daily did initially report February 15th as the start date before correcting their story.