Joann Sfar's biopic, "Gainsbourg: Vie Heroic" (or "Serge Gainsbourg: A Life Heroic" hits theaters in France next week (January 20) which means a pay dirt of new content has surfaced including new photos, a trailer that finally has English subtitles (we showed you the French version a few months ago) and reviews are also trickling in from all over (also the film premiered in Paris this week). The trailer is also a bit NSFW, btw.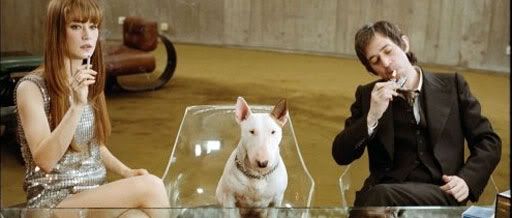 Sfar, is primarily a comic-book/graphic novelist and animated sequences — made by the same folks who did the CGI in "Pan's Labyrinth" — were once promised, but the trailers never illustrated any evidence of those moments. Were these sequences ditched? It's hard to say, there were behind-the-scenes clips available on the official site that did demonstrate some animation, but a review over at ScreenDaily (that is highly favorable), doesn't mention any animated scenes at all.

Screen Daily is enthusiastic about the picture though:

A wildly creative take on the life of notorious French composer, lyricist and provocateur Serge Gainsbourg, Gainsbourg (vie heroique) is splendidly cast and consistently engaging. Prolific cartoonist Sfar's first feature as writer/director skillfully melds Gainsbourg's uppity inner child, self-destructive behavior and prodigious talent with a rousing approach to the societal weight of being — and looking — Jewish.
However, the film still sounds pretty unconventional. Another review in the ChinaPost of all places says the film does away much, typical narrative explanation and shows the hero, "constantly arguing with a giant alter ego invisible to all but himself" (but no mention of animation either).

The cast of is pretty much an all-star French one. Eric Elmosnino plays Gainsbourg (though he's relatively unknown), Lucy Gordon (who committed suicide earlier this year, RIP) plays his famous chanteuse wife, Jane Birkin (the mother of Charlotte Gainsbourg), former French Supermodel Laetitia Casta stars as Brigitte Bardot, Anna Mouglalis ("Coco Chanel & Stravinsky") is playing elegant chanson singer Juliette Gréco, actress Sara Forestier ("Perfume: The Story of a Murderer") will play mousy, French yé-yé singer France Gall and French/Chinese actress Mylène Jampanoï will portray singer actress, Bambou, who was Gainsbourg's muse and girlfriend near the end of his life. Celebrated French actress Yolande Moreau is also in the film (more casting information here).


Apparently Sfar already has an animated feature based on his multi-volume hard-backed comic, "The Rabbi's Cat," due this summer, but presumably that date is in France only so far. There's also an interesting article with Sfar in the French publication, Les Inrockuptibles about the film, but the Google translation is very rough so we won't excerpt it here (btw, how gorgeous does Mouglalis look here in this press conference).

There's also a 2-disc soundtrack that's already been released in France. It actually features many of the actors actually singing (Elmosnino, Mouglalis, Forestier), original versions of classic Gainsbourg songs and Canadian Francophile Gonzales (producer and co-writer of many Feist songs) delivering some short score cues as well. The film evidently has a running time of 130 minutes. Still no U.S. date yet, but the film is set to bow in Quebec in March though we're still waiting to hear from the distributor if a subtitled version will be available.

"Gainsbourg: Vie Heroic" soundtrack tracklist

1. Taxi 69 Albin De La Simone 1:15
2. Nazi Rock Eric Elmosnino 2:47
3. I Wood Versus Intoxicated Man Eric Elmosnino 2:50
4. The Javanese (Chez Greco) 2:13 Anna Mouglalis
5. Elaeudanla Teiteia Eric Elmosnino 1:31
6. Je T'Aime Moi Non Plus Serge Gainsbourg 4:22
7. In Dali Bulgarian Symphony Orchestra 1:13
8. Because that (for Elizabeth) Eric Elmosnino 1:23
9. Who Is "In" Qui Est "Out" Emily Loizeau 2:24
10. Baby Pop Sara Forestier 3:44
11. The Poinçonneur Des Lilas (Version Frères Jacques) Jean-Yves Lacombe 2:43
12. Le Canari Est Sur Le Balcon Eric Elmosnino 1:48
13. L'Hotel Particulier Eric Elmosnino 4:19
14. The Hairdressing Salon Olivier Daviaud 2:49
15. Initials BB Bulgarian Symphony Orchestra 0:50
16. Bonnie And Clyde Laetitia Casta 1:32
17. Comic Strip Laetitia Casta 1:52
18. Seeking Gainsbourg "Je T'Aime, Moi Non Plus" Gonzales 0:53
19. Aux Armes Et Cetera Eric Elmosnino 3:11
20. Love On The Beat 2:59 Eric Elmosnino
21. La Valse De Von Paulus Bulgarian Symphony Orchestra 2:05

CD2
1. Valse De Melody Serge Gainsbourg 1:35
2. Mom, Buy Me A Revolver Bulgarian Symphony Orchestra 1:02
3. The Flip Book Olivier Daviaud 1:27
4. The child prodigy Gonzales 1:12
5. The Coco Yolande Moreau 1:15
6. Drawings Pigs Olivier Daviaud 1:32
7. I Draw You All The Days Kacey Mottet Klein 1:32
8. Baudelaire (Le Serpent Qui Danse) Kacey Mottet Klein 1:08
9. The Javanese Gonzo Gonzales 1:53
10. The Workshop In Flames Jason Meyer 0:47
11. The Poinçonneur Des Lilas (Serge And His Dad) 1:10 Razvan Vasilescu
12. Guitar Lesson Angelo Debarre 0:58
13. Orphans Martine Abdessemed 1:40
14. The hippopodame Serge Gainsbourg 1:43
15. Envol The Bulgarian Symphony Orchestra 0:51
16. The breaker Philippe Antoine Duquesne 1:33
17. The Wooden Leg Eric Friedland Elmosnino 1:04
18. Out The Bulgarian Symphony Orchestra 2:04
19. Sergio Fool Paul Jothy 1:42
20. I have an appointment with you Joann Sfar 2:02
21. Strasbourg 1980 Eric Elmosnino 0:55
22. Valse De Melody (Album Version) 1:32 Serge Gainsbourg

Just note, you might have to turn the subtitles on yourself manually. We had to click on the bottom right corner and turn the Closed Captioning on (the right arrow pointing up).