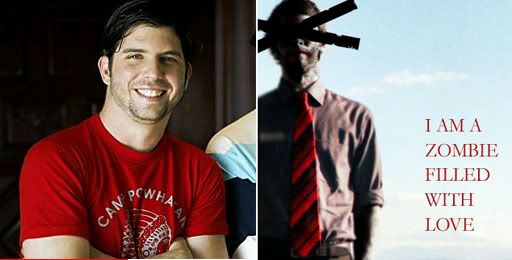 "The Wackness" and "All The Boys Love Mandy Lane" director Jonathan Levine is a busy young man.

He recently replaced Nicole Holofcener as director of the James McAvoy and Seth Rogen cancer comedy, "I'm With Cancer" (though apparently the film has reverted back to an Untitled state for now). And filming is scheduled to start in Vancouver, Canada next month.

However, sources close to the project and producers tell us Levine already has another project in the works which is an adaptation of a comic zombie love story novel that he will write and direct.

The project is set up at Summit Entertainment with producer Bruna Papandrea (an executive producer of "Milk" and producer on "The Marc Pease Experience" and "The Mysteries of Pittsburgh") and it will be based on a forthcoming unreleased book called "Warm Bodies" by Isaac Marion based on the authors own short story "I Am A Zombie Filled With Love." We're told the book is fantastic and that it's a darkly comic, existential zombie romance set at the end of the world (which jives with what the short story pretty much is, see bel0w).

Further details thus far are scarce as the project is just getting off the ground — there's obviously no cast set yet — but Levine has just started to write the script in the last few weeks, but is expected to turn it in before he starts shooting, 'Cancer' (evidently he's a super fast writer).

Marion has a page set up for his entire "I Am A Zombie Filled With Love" short story if you want to read it. It's essentially a first-person, diary-like entry from a Zombie. Here's a taste:

"I guess the world has mostly ended, because the cities we wander through are decaying as fast as we are. Buildings are collapsed. Dead, rusted cars fill the streets. All glass everywhere is shattered. I don't know if there was a war, or a plague, or if it was just us. Maybe it was all three. I don't know. I don't think about things like that anymore.

In a cluster of broken down apartment buildings we find some people, and we eat them. Some of them have weapons, and as usual we lose some of our number, but we don't care. Why would we care? What's death, now?

Eating is not a pleasant business. I chew off a man's arm, and I hate this, it's disgusting. I hate his screams, because I don't like pain, I don't like to hurt things, but this is the world now, this is what we do. Of course, if I don't eat all of him, if I leave enough, he'll rise up and follow me back to our dusty field outside the city, and that might make me feel better. I'll introduce him to everyone, and maybe we'll stand around and groan for a while. It's hard to say what 'friends' are anymore, but maybe that's close. If I don't eat all of him, if I leave enough..."

He's also posted a book trailer for "Warm Bodies" which you can watch below. If 'Cancer' comes out in 2011 (probably?). Than this one will hit the year after? It's hard to say, but again, it's early days. We're told an official announcement will hit very soon.