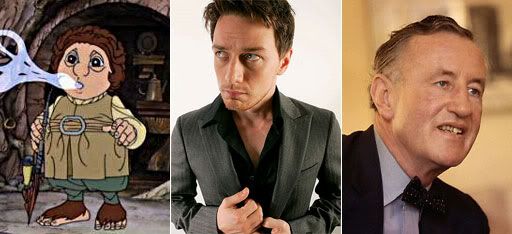 Gotta love the rumor killer.

You'll recall that James McAvoy has long been rumored to be a part of one gigantic project, "The Hobbit" and one relatively anticipated one, the Ian Fleming biopic (the creator and author of the James Bond series).

McAvoy has already killed 'The Hobbit' rumor once, but apparently the news was so popular — truthfully, we'd love him to do it — it seems he's had to step out and say something again.

In an interview with Collider, the young British star quashed rumors about both projects. "I can squash the 'Hobbit' rumor right off the get-go," McAvoy told them. "It's squashed, I promise you." Well, seemingly that's that though director Guillermo del Toro and co. are apparently casting the film right now for what is supposed to be a June start date that goes on for a treacherous 14 months.

As for McAvoy potentially playing Fleming? He says, "It's rumor. Again, it's all a rumor. I've read the script — I read it a long time ago, though, and I never even spoke to the producers. I don't know where it's come from."

He added that it's strange to hear reports about yourself that aren't true. "Quite often you're just hearing things that aren't true. As much as they're not bad things, there's a part of you that goes, 'But it's not true!' It's like you're saying that I like coffee instead of tea. It's not that big of a deal — it's just not true!"

McAvoy also talked about "I'm With Cancer" that starts shooting soon and co-stars Anna Kendrick, Seth Rogen and will be directed by "The Wackness" director Jonathan Levine. He doesn't reveal much, but sort of hints that Levine will have a bold approach to the picture that includes, drama, comedy and tears. "It's not what you'd call a comedy," he said. "It's got funny bits, but it's also moving and very sad. So it's a very fine line to walk with tone."

That film starts shooting in Vancouver in February. McAvoy will next be seen in "The Last Station" with Christopher Plummer and Helen Mirren which hits theaters January 15. We saw it recently and it's quite good and as usual, he's solid as granite in it.