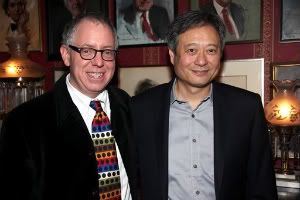 Focus Features honcho, Ang Lee collaborator and screenwriter James Schamus revealed in an interview with The Hollywood Reporter that he started work this week on a "tragic, suicidally depressing" script for the director.

The team, who have worked together on nine films including "The Ice Storm," "Lust, Caution" and "Crouching Tiger, Hidden Dragon" have forged a pretty incredible partnership over the years. With Lee being able to come in on time and work with smaller budgets, even perceived failures such as "Taking Woodstock" ultimately aren't big losses and allow him to keep working. They also seem to follow their muse wherever it takes them, allowing Lee to have helmed an interesting array of films from westerns to period pictures to sober dramas.

Schamus says the new script is a "weird mix" of adapted and original material. While he does consult with Lee both before and after writing, Schamus says this script is "totally me." Though there is nothing contractually in place, if this does move ahead, Schamus says it will be "quite low budget." A small scale, grim drama from Lee and Schamus sounds quite intriguing. While we don't always love what he does, Lee is an accomplished talent behind the camera so we're always curious to see what he's up to.

What this means for the still in development big screen version of "Life Of Pi," which Lee announced as his next project, remains to be seen. He did speak excitedly about the project last fall and has even turned in a draft of the script, but since then there has been silence from both Lee and the studio. That film has seen more directors come and go than any picture in recent memory and frankly, we wouldn't be surprised if he ends up leaving that one as well.