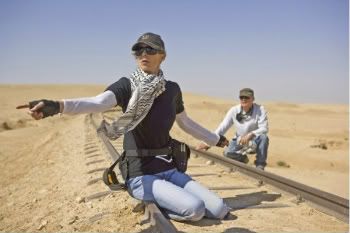 Update: Following yesterday's not-quite-accurate tweet from Production Weekly, The Hollywood Reporter has learned that Kathryn Bigelow is not officially attached to direct (yet) but that the offer has been made (the project has been shipped out to handful of studios/agents for consideration). The more intriguing development is that Terrence Malick wants to jump aboard as producer and "pitch his take on the material to potential buyers." Um, a Bigelow film produced by Terrence Malick? Sign us up. THR says final decisions should be made by the end of the weekend.

Production Weekly has twittered that Kathryn Bigelow is attached to direct her next project, and it's a return to the rugged terrain of the war on terror, called "Held By The Taliban."


The film will be based on a five-part series of articles by David Rhode for the NY Times about his account of being held by the Taliban in Pakistan. Rhode and two associates were doing research for a book when they were kidnapped and spent seven months and ten days in captivity before escaping. His abduction is also notable as his colleagues at the NY Times begged other media outlets not to report the kidnapping, resulting in a media blackout about the story. Rhode's story is pretty extraordinary and you can read it all here.

But wait, what about "Triple Frontier" that was set up with her "The Hurt Locker" scribe Mark Boal (and was one of our most anticipated films of 2010)? That film, a "Traffic"-like drug saga set in the "notorious border zone between Paraguay, Argentina and Brazil" was announced back in August as Bigelow's next likely project. However, at the time, she was only attached as an executive producer (and everyone sort of assumed she'd direct) but we're guessing she'll retain her producing role while putting herself behind the camera for this film.

There is no word yet on the other talent involved, but considering Boal was a freelance journalist who used his own experiences to draw on for "Hurt Locker," he can definitely relate to the kinds of situations Rhode may have found himself in, and we wouldn't be surprised if he's brought on board to help draft the script.

We loved Bigelow's work in "The Hurt Locker" and it's exciting to see her jumping back into similar gritty territory, albeit from a completely different perspective. You can bet we're eager to hear more news about this.