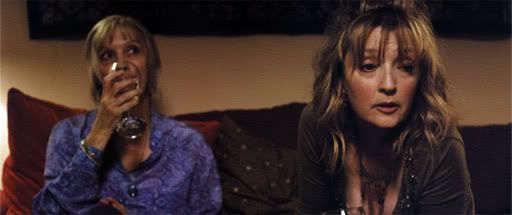 A few months ago, a "synopsis" of the new Untitled Mike Leigh picture arrived and it revealed... well, nothing.

It wasn't even really a synopsis and all it revealed was it was just another film that used Leigh's trademark methods of improvisation featured in films like, "Happy Go-Lucky," "Naked," "Secret & Lies" and many, many others.

Essentially, Leigh gets a basic idea and characters, throws several actors together for weeks of rehearsal and then a story generally surfaces out of that improv. Leigh observes, takes notes, make adjustments and then goes off and writes a script. It's pretty much a tried and true method that he's been using for years. So there were few details.

However we do know that the film stars Leigh-mainstays Jim Broadbent (Leigh's 1990 film, "Life Is Sweet") and Imelda Staunton (Leigh's 2004 film "Vera Drake" with Staunton was nominated for a Oscar Best Actress). Pictured above in the first image of the film appear to be on the right, Lesley Manville (Leigh's "All or Nothing") and on the left, we have no clue, but Karina Fernandez, who played Sally Hawkins' best friend in "Happy Go-Lucky" also has a role in the picture. All we knew is that the film was an "intimate portrait of people's lives," but that's nondescript and like every Mike Leigh film.

But finally, something has arrived, a title. Leigh's film "Topsy Turvy" screened in Leeds, UK this past weekend and the filmmaker introduced the film and then did an hour long Q&A after, eventually reluctantly revealing the title: "Another Year." A U.K. Playlist reader wrote in:

"After some quite gentle probing, informed us that the title of his brand new and currently untitled film will be called 'Another Year'. He refused to make any other comments on the film, but informed us all there that this was the first time that he had publicly announced this."
Sounds like Leigh to be secretive about a project that likely has no major high-concept twists or secrets that would spoil the picture, but that's just him we suppose.

Ok

, it's not a lot, but it's something and a new Mike Leigh film is always something to sit up and take notice about. Thanks to the U.K. reader who wrote in this tip, now we'll just have to patiently wait for more. A fall 2010 release? Let's hope so.