Alright, you've already seen our Most Anticipated Films of 2010 feature our Least Anticipated Films of 2010 feature and now we have the Potentially Decent Escapist Entertainment Films (Or Mildly Interesting Indie Ones) Of 2010.

It should be no surprise to you by now what type of film we generally cherish (non-pandering intelligent cinema), which ones we typically loathe (lowest common denominator chum meant to plop popcorn munchers in seats) and which ones we treat with suspicion until otherwise verified as something being other than slightly above reproach. And this is mostly that latter category. Contradictory notions aside, we

do

like to be entertained and if that escapist thrill can come in a smart, engaging package ("

District Nine

" is probably 2009's best example with "

Star Trek

" and "

Inglourious

Basterds

" not far behind), we're all for it [

ok

, the ed. was not a huge of '

Basterds

,' so what]. But often we're on the fence, not entirely sure, but willing to give a film a chance. As we said during our Least Anticipated Films of 2009 feature. We were mostly dead-on in our presumptions about the pictures we thought would be worthless (we went about 38 out of 40 pictures correct).

Basically, we're not quite ready to endorse these films wholeheartedly in the off-chance (or mild to strong) chance in case they suck.
Don't get it twisted, we're excited about many of them, but we do have some minor reservations about some.

For instance, "

Iron Man 2

," will

hopefully

be just as sharp and entertaining as the original, but yes, we have often have

some

concerns. But here's to hoping they're all fantastic, compelling and smarter than they look. Sometimes we're being too generous by including there here (see the inclusion of "

Terminator: Salvation

" and "

X-Men Origins: Wolverine

" in 2009), and sometimes we're nicely surprised (see "

500 Days Of Summer

" and "

Leaves of Grass

"), but even last year's picks turned out to be mostly clunkers, so don't say we're being haters for being cautiously skeptical and or optimistic. But as always, we'll be pleased as punch if all these films are great and totally entertaining.

"

Iron Man 2

"
- Paramount - dir.

Jon Favreau



Synopsis:
After going public with his identity, billionaire superhero Tony Stark must contend with a Russian genius seeking revenge against the family name, a seductive spy with ulterior motives, a greedy businessman looking for a financial edge and a government agency with grand plans for a Stark-led law enforcement squad. It's a sequel.

What You Need To Know:
"Iron Man 2" has a lot of material for promo fodder, including

Mickey Rourke

as cagey

supervillain

Whiplash,

Sam Rockwell

as a fast-talking arms dealer and Don

Cheadle

armoring up as the power-packing

War Machine

, not to mention Scarlett

Johansson

in skintight leather. However, a significant amount of screen time is expected to be devoted to the expanding universe of the Marvel films, and rumors have suggested "

Iron Man 2

" will be the

defacto

beginning of a superhero franchise continuing with "

Thor

," "

Captain America

" and "

The Avengers

." There's already chatter about scenes dedicated to Stark's father Howard (John

Slattery

), a WWII scientist who developed Captain America's Super-Soldier Serum (which served as part of the genetic material that created the behemoth of "

The Incredible Hulk

"), not to mention an increased presence for

Samuel L. Jackson

's Nick Fury, who had a cameo in the first film announcing the potential for a team of

superhumans

. With

Johansson's

Black Widow

character already on board, we could have a very clear idea of the next few films in this peculiar franchise by the end of this film. Which, of course, could mean no real surprises.

Yay

?

Release Date:
May 7

th
"

Robin Hood

" - Universal - dir.

Ridley

Scott
Synopsis:

He robs from the rich. Gives to the poor. There are arrows involved.


What You Need To Know:

Like many of 2010's leftover-feeling blockbuster brigade, this swordplay saga has long been in development, originating from a script called "

Nottingham

" that supposed that the Sheriff of Robin Hood lore was actually a decent man trying to protect his land from an immoral pillager. When

Ridley

Scott and Russell

Crowe

got their mitts on it, however, it shifted into a very different project
—
the revelation that

Crowe

was to play both the Sheriff and Robin Hood himself suggested either a colorful, schizophrenic take on the fable, or the story of a Sheriff who needed to create an antihero opponent to best serve the needs of his people. The dual-role conceit was dropped for Brian

Helgeland

's current draft, which is a more straightforward account of the archer of the English Barons facing a decidedly far-less-intimidating Sheriff than either

Crowe

or "

Prince Of Thieves

" villain Alan

Rickman

in the mousy Matthew

MacFadyen

. We're

ok

with every generation receiving their own version of the story, especially with a cast including Cate

Blanchett

, William Hurt, Danny Huston, Mark Strong and, most inspired,

Kevin Durand

as Little John, but the trailer does hew close to the already-formula

Ridley

Scott period-epic look while simultaneously only looking a shade more gritty than

Kevin Costner

's much-reviled take on the

mythos

. Oh, and the eleventh hour rumors of adding the 3D factor? Desperate. Still it's Ridley, so we give him the moderate benefit of the doubt here even if the track record has been poor in the last 4-5 years.


Release Date:

May 15

th

, 2010, which more than suggests

tentpole

film, not Oscar-bait, keep that in mind.
"

Centurion

" -

Celador

Films -

dir.

Neil Marshall
Synopsis

: A splinter group of Roman soldiers fight for their lives behind enemy lines after their legion is decimated in a devastating guerrilla attack.

What You Need to Know:
Everytime

a horror film doesn't totally suck, the

innured

audience, essentially used to tolerating mediocre drivel tends to freak out. Hence the reason why Neil Marshall's good, but not spectacular horror film, "

The Descent

" is so grossly overrated now as some sort of lodestone in that always eyesore of a genre. Nevertheless, the cast here — Michael

Fassbender

, Dominic West, Olga

Kurylenko

, David

Morrissey

, Noel Clarke — is interesting and

Fassbender

alone is worth a second look in any film. If anything this will hopefully be much stronger than semi-similar fare like

Ridley

Scott's "

Kingdom of Heaven

," "

Troy

" and "

King Arthur

," and if Marshall can take his apparent skills and raise them above the aforementioned bland studio pictures, he might just be onto something great. We have high hopes.
Release Date

:

TBD
"

The Green Hornet

" - Sony- dir. Michel

Gondry




Synopsis:

Newspaper publisher Britt Reid takes to the streets at night as masked vigilante the Green Hornet.


What You Need To Know:

The behind-the-scenes pedigree is there, with

Gondry

finally playing in a studio sandbox for once — on a superhero picture no less! Star Seth

Rogen

, who penned the script with writing buddy

Evan Goldberg

, seemed to understand basic action beats in "

Pineapple Express

" and is interested in exploring the

mythos

of the pulp character with a straight face, while also delving into the friendship between the hero and his

chauffer

/sidekick,

Kato

. The departure of

Stephen Chow

was a blow to everyone's confidence, but it was probably a case of too many alpha males on set, and the film's been peppered with colorful faces like Tom Wilkinson, Cameron

Diaz

, Edward James

Olmos

and the great

Christoph Waltz

of "

Inglourious

Basterds

," here playing another baddie, but even

Nicolas Cage

thought the villain role was too thin and underdeveloped
(!)
which worries us.


Release Date:

December 17, 2010

"

Hot Tub Time Machine

"-

Lakeshore

/MGM- dir.

Steve Pink




Synopsis:

There's a hot tub. It's a time machine. And it transports these dudes back to the 80s.


What you need to know:

HTTM

reunites John

Cusack

with his "

High Fidelity

" and "

Grosse

Pointe

Blank" writer,

Steve Pink

, taking over the director's chair this time. The writers of this we-hope-it's-so-preposterous-it's-awesome-script haven't proven themselves yet, but with the presence of Rob

Corddry

, Craig Robinson (who both consistently elevate the material around them, looking at you "

What Happens in Vegas

" and "

Pineapple Express

") and relative newcomer/Michael

Cera

BFF

Clark Duncan

, we think they might have a pretty good safety net. Also,

Chevy Chase

!


Release Date:

March 19

th

, 2010

"

Machete

" – Sony – dir. Robert Rodriguez & Ethan

Maniquis



Synopsis

: A trailer gets expanded. A betrayed Mexican

Federale

(Danny

Trejo

) launches a brutal campaign of revenge against those that killed his family.


What You Need To Know

:
Yes, a jokey trailer (from the double feature "

Grindhouse

") that

begets

an entire film is a risky and thin
proposition, but

Robert Rodriguez

does campy pulp action rather well (see "

Planet Terror

" and "

Once Upon A Time In Mexico

" that features a deliciously amusing turn by Johnny

Depp

). Plus it was all right there in the trailer
waiting to be laid out. A motley crew cast has been roped into this wild and off-the-cuff project: on top of

Trejo

there is Jessica Alba, Robert

DeNiro

, Steven

Segal

, Don Johnson, Lindsay

Lohan

and

Michelle Rodriguez

. On top of that cadre of actors there are also appearances by

Rose McGowan

,

Cheech

Marin and Danny

Sabato

(one of the original "

Spy Kids

" now all grown up and recently putting in a hilarious turn in the pitch black comedy, "

The World's Greatest Dad

"). This will either be a disaster or an entertaining riot and the inherent self-awareness of the project should prove to be a lot of fun and therefore

hopefully

the

ur

-text

of escapist cinema.


Release Date:

April 16, according to the always infallible

IMDB

.

"

Toy Story 3

" - Disney/

Pixar

- dir. Lee

Unkrich




Synopsis:

It's the third "Toy Story" movie, and this time Andy is going away to college.


What You Need to Know:

This animated sequel had a number of false starts, like during the tenuous period when it looked like

Disney

and

Pixar

would split for good, so Disney went ahead and put a "Toy Story 3" into development without any input from

Pixar

. (That version of the story had Buzz being recalled and the rest of the toys traveling to

Tawain

to rescue him.) Not a whole lot is known about this 3-D film, except that it was written by "

Little Miss Sunshine

" scribe Michael

Arndt

. Oh, and we can expect a number of new characters, like

Timothy Dalton'

s porcupine toy Mr. Pricklepants and

Michael Keaton

as Barbie's beau Ken.


Release Date:

June 18th


"

Cemetery Junction

" - Sony Pictures - dir.

Stephen Merchant

and

Ricky Gervais




Synopsis:

Three young men growing up in Reading in the 1960s chase the sexual revolution they've heard so much about...


What You Need To Know:

Ricky Gervais is yet to translate his success with the TV shows "

Extras

" and "

The Office

" to the big screen - "

Ghost Town

" was amiable, but not particularly funny, while "

The Invention of Lying

" took a promising script and cast, and botched it completely. "Cemetery Junction," however, marks his reunion with regular collaborator Stephen Merchant, and looks far more promising. A coming of age picture, taking its inspiration from 1960s British New Wave movies, it features newcomers (and "future movie stars," according to Gervais)

Christian Cooke, Tom Hughes

and

Jack Doolan

in the leads, and

Ralph Fiennes, Emily Watson, Matthew Goode

and Gervais in supporting roles, it, from the script,

should

prove a return to form for the pudgy comic star.


Release Date:

TBD, but April 7, 2010 in the U.K.

"
Predators
" - 20th Century Fox - dir.
Nimród Antal
Synopsis

: A 15-year-old idea is resurrected. A disparate group of elite military assassins, serial killers and mercenaries are mysteriously brought to a strange jungle planet to do battle with warrior-hungry Predators in need of a challenge.
What You Need To Know:

Based on decade-plus-old script by

Robert Rodriguez

(and having gone through revisions including one by

James Vanderbilt

of "

Zodiac

" and "

Spider-Man 4

" fame), yes, the premise is paper thin and will certainly require the suspension of disbelief, but really, what did you expect? Once the motley crew (

Adrien Brody, Alicia Braga, Topher Grace

are the key cast with appearances by

Danny Trejo

and

Laurence Fishburne

) arrive on the planet, what ensues should be a fairly entertaining struggle for survival on a fiercely inhospitable planet. Then again, the promising Nimród Antal is now batting 1 for 3 ("

Vacancy

" and "

Armored

" were nothing like the joy that was "

Kontroll

"). This won't be high art, but it should be fun and

hopefully

a thousand times better than the "

Aliens Vs. Predators

" films that sullied both franchises. That's not too much to ask, right?


Release Date:

July 7, 2010
"

Buried

" -

dir

.

Rodrigo Cortes




Synopsis:

A civilian contractor in Iraq wakes up to discover he has been buried alive with only a cell phone, candle and knife to survive and only 90 minutes worth of oxygen left to try and escape.


What You Need To Know:

In what could be fascinating experimental

filmmaking

or excruciatingly painful viewing, the self-described one-man show from

Ryan Reynolds

will reportedly feature only Reynolds on screen and will be set predominantly in the coffin which his protagonist is buried in. The film will be premiering at

Sundance

Film Festival in the 'Park City At Midnight' field.


Release Date:

TBD

(

Sundance

Premiere)

"
Youth In Revolt
" - Dimension Films/The Weinstein Company - dir.
Miguel Arteta
Synopsis:
The story of Nick Twisp, a teenager on his own convoluted journey to ditch his white trash extended family, hang out with his best friend and finally lose his virginity.

What you need to know:
Michael Cera

got ripped for his samey-samey acting in 2008's '

Nick and Norah

' and has been pissing off the entire Internet by being the rumored hold out in
an

Arrested Development
movie, so all eyes are on him for this return to the big screen as Nick Twisp, the cross-dressing hero of a cult classic YA novel. The movie has a crack comedy support cast featuring

Steve Buscemi, Jean Smart, Zach Galifianakis,

and

Mary Kay Place

and is director Arteta's biggest silver screen project since 2002's "

The Good Girl

." You should expect a movie along the lines of "Superbad" from this male-centric coming of age story, but with a bent on the wacky family backstory. There's also talk about this being a breakout role as Cera's love interest for actress

Portia Doubleday

. This would have been in our most anticipated (and it was in 2009), but it was delayed several months and now has a pretty forgettable release date, but perhaps it's an attempt at counter-programming. Ok, we saw it and didn't love it, but whatever, it's not awful either.
Release Date: January 8, 2010
"

Harry Potter and the Deathly Hallows: Part I

" - Warner Brothers - dir.

David Yates




Synopsis:

If you need a synopsis, then you're obviously not in the target audience for the seventh film in the blockbuster series.


What You Need To Know:

It might look like more of the same for the first part of the fantasy series' finale with returning cast and crew, but "Harry Potter and the Deathly Hallows: Part I" messes with the tried-and-true formula of the previous films. Harry (

Daniel Radcliffe

), Hermoine (

Emma Watson

), and Ron (

Rupert Grint)

forgo their last year at Hogwarts and embark on a mission destroy the Horcruxes (and, by extension, Voldemort:

Ralph Fiennes

). With

Bill Nighy

and

Rhys Ifans

joining the cast, every British character actor imaginable has appeared in the saga. And so far most of them have been pretty good, escapist fun.


Release Date:

November 19, 2010
"

Dawn of War

" – Relativity Media - dir.

Tarsem




Synopsis:

A mythological tale set in war-torn ancient Greece that finds young warrior prince Theseus leading his men in a battle against evil that will see the gods fighting with men against demons and titans.


What You Need To Know:

Based off a script by brothers

Vlas

and

Charley Parlapanides

, visual magician Tarsem described the film as Caravaggio [an Italian Baroque artist circa the 16th Century] meets "

Fight Club

" with inspiration from

Baz Luhrman

's "

Romeo + Juliet

." Expect nothing more than an array of absurd visuals ala Tarsem's "

The Fall

" set in world of "

Clash Of The Titans

" and/or "

300

," which at the end of the day is at least more interesting than both beefcake films. The unluckiest man in Hollywood,

Henry Cavill

, gets his a rare opportunity to prove himself in the lead role of Theseus.


Release Date:

TBD (Starts shooting early 2010)


"

Love and Other Drugs

" - 20th Century Fox – dir.

Edward Zwick




Synopsis:

In the cutthroat world of the 90's pharmaceuticals boom, a Pfizer sales-representative falls in love with a girl with Parkinson's disease.


What You Need to Know:

A

Jerry Maguire

-like romance in the pharmaceutical industry. Something we have no problem with, as

Jake Gyllenhaal

and

Anne Hathaway'

s on screen chemistry has been in serious need of its own movie since "

Brokeback Mountain

." What might have us most interested, however, is that Edward Zwick, known primarily for his sprawling war dramas, might be making the first major film to take an unironic look at the 90s and give it the romantic period piece treatment. The rest of this promising cast includes

Gabriel

Macht

, Judy Greer, Oliver

Platt

a

nd

Hank

Azaria

.

Our deep concern however is that Ed Zwick has not made a great film since 1996's "

Courage Under Fire

" though we suppose "

Defiance

" wasn't a disaster. But it wasn't great either.


Release Date:

November 24, 2010.
"

The Expendables

" – Millennium Films – dir.

Sylvester Stallone




Synopsis:

A team of mercenaries head to South America on a mission to overthrow a dictator.


What You Need To Know:

Starring Stallone as the leader of the Expendables Barney Ross, this film has almost every big budget action star of the last 20 years save JCVD. The cast includes

Jason Statham, Jet Li, Dolph Lundgren, Eric Roberts, Randy Couture, Steve Austin, Terry Crews, Mickey Rourke,

and

David Zayas.

Throw in cameos by

Bruce Willis

and "the Governator" himself,

Arnold Schwarzenegger

and you've got action star overload in full effect. This is sure to be a good, old fashioned, high octane, explosion-fest with more familiar faces than you can shake a stick at. The script appeared to be pretty solid given the material so as long no one goes in thinking this is going to win any Oscars it should at least be an enjoyable ride.


Release Date:

April 23, 2010


"The Adventurer's Handbook"- Universal Pictures - dir. Akiva Schaffer
Synopsis: Inspired by their favorite book, four lifelong friends decide to go for an adventure together.
What You Need To Know: Generally speaking, a good rule of thumb is that the more expensive a comedy is, the less funny it'll be, with "Ishtar" and "1941" being two of the more prominent examples. Hopefully, the relatively generously budgeted "The Adventurer's Handbook" will buck the trend. From Lonely Island graduate Akiva Schaffer, who also directed the underrated "Hot Rod," the cast already includes Jonah Hill as "an engineer, isolated from his family," Jason Segel as an alcoholic failed musician and Jason Schwartzmann as "a spoiled and cowardly three-time Grammy winner," and it also features a script from Hill and Max Winkler, who also penned the forthcoming "Ceremony."
Release Date TBD and admittedly, maybe not even 2010, it still hasn't shot yet and there hasn't been any announcement as to when that might happen.
"

Clash of the Titans

" – Warner Bros. – dir.

Louis Leterrier




Synopsis:

A remake of the 1981 film version of the myth of Perseus and his quest to battle both Medusa and the Kraken monster in order to save the Princess Andromeda.


What You Need To Know:

So far it's looking like this will be at least an entertaining remake of the 80's Greek epic. Leterrier did a good job of reviving the 'Hulk' franchise (after the horrible attempt by

Ang Lee

) and we think he should do 'Titans' justice. The cast is looking solid. OK, there's action cardb0ard cut-out

Sam Worthington

playing Perseus sure, but there's also

Liam Neeson

as Zeus,

Ralph Fiennes

as Hades, and

Alexa Davalos

as Andromeda. We are admittedly a bit on the fence. After 'Salvation' flopped and "Avatar" booming but in no thanks to his acting, this could be Worthington's shot at carrying a successful blockbuster. For his sake, let's hope this one is a hit. Benefit of the doubt given here.


Release Date:

March 26, 2010

"

Alice in Wonderland

" - Walt Disney Pictures- dir.

Tim Burton




Synopsis:

A teenage Alice runs away from a party (and a proposal) and falls back down the rabbit hole to the Wonderland she visited 10 years before.

What You Need To Know:
We're being generous here as Tim Burton hasn't made an interesting picture in years. Here he enlists usual suspects/muses

Johnny Depp

and

Helena Bonham Carter

as the Mad Hatter and the Queen of Hearts, respectively, and the rest of the cast features

Crispin Glover, Anne Hathaway, Michael Sheen, Christopher Lee

and excellent newcomer

Mia Wasikowska

as Alice. Lewis Carroll's psychedelic hallucination of a fairy tale gets the 3D treatment, while normally we wouldn't care to face the kiddie masses at the cineplex for this type of thing, Burton's characteristic fantastical and quirky aesthetic makes him just the auteur to update this property, properly. Or at least hopefully...


Release Date:

March 5th, 2010
"

The Ward

" - No Distributor - dir.

John Carpenter




Synopsis:

A woman sentenced to an institution stay starts seeing ghosts.


What You Need To Know:

One side of us notes this is the first film Carpenter has directed since 2001's "

Ghosts Of Mars

," and that the guy hasn't made a good one since 1994's "

In The Mouth Of Madness

"- which is being charitable. The other side remembers that few, if any, genre directors had such an amazing run from 1978's "

Halloween

" to 1988's "

They Live

." There's a reason most of his films have gotten the remake treatment. Still, while it's great to see the formerly prolific horror master back in the saddle, we'd feel better if he brought along one of his regulars like

Keith David, Kurt Russell

or even

Dennis

freakin'

Dun

. We're in wait-and-see mode right now.


Release Date:

TBD




"

Tron Legacy

" – Disney – dir.

Joseph Kosinski




Synopsis:

A virtual-world worker looks to take down the Master Control Program.


What You Need To Know:

Kevin Flynn (

Jeff Bridges

) and his son Sam (

Garrett Hedlund

) get stuck in a vividly lit computer program and are trying to get out. That's pretty much the plot. Accompanying them are

Olivia Wilde

(something to look at other than the effects),

John Hurt

, and

Michael Sheen

as the villain. There is probably an entire generation or two that have never seen or heard of the original "Tron" outside of a joke or two on shows like "

The Simpsons

" or "

Family Guy,

" but for fans of the original, this sequel might be one of the most exciting movies of the year. For the rest of us, it's probably just going to be a fun movie that's visually appealing, most likely nothing to rave about (maybe like "

Avatar

"). We think the most exciting news to come out of the movie has been that

Daft Punk

is doing the entire score which should be a silver lining if all else fails, which, it very well might.


Release Date:

December 17, 2010

"

Going the Distance

" - New Line -

dir.

Nanette Burstein




Synopsis:

A couple (

Drew Barrymore

&

Justin Long

) attempting a
long-distance relationship decide that dating people nearby is simply easier.
What You Need To Know:

Every year we do a piece like this we inevitable leave off lesser, forgettable-looking pictures we don't have time for (the innocuous ones not even worth landing in least anticipated). 'Distance' wouldn't be here if it weren't for Nanette Burstein the director behind "

American Teen

" and co-director behind "

The Kid Stays In The Picture

." This is Burstein's narrative feature-length debut and since 'Teen' had reality-world like story-lines, she should be more than ready to make the leap to feature filmmaking. The problem is this one sounds and looks as generic as can be (doesn't any film starring Drew & Justin Long?). We suppose we're being too optimistic here, but won't be surprised if it's crap.

Christina Applegate, Ron Livingston, Kelli Garner

co-star.


Release Date:

October 8, 2010
"

Monogamy

" - dir.

Dana Adam Shapiro




Synopsis:

a cautionary tale about sex, photography and fear of marriage; the trials and tribulations of a young couple's relationship.


What You Need To Know:

Everybody already loves

Rashida Jones

, but everyman

Chris Messina

has been on the verge of leading man status for a few years now after playing the harmless boyfriend role in countless romantic comedies over the last few years (he must be getting frustrated at the constant pigeonholing; see "

Julie & Julia

" for the last "nice guy" example). Perhaps more notably, the indie romance comedy is the feature-narrative debut of Dana Adam Shapiro, the co-director behind the winning 2007 documentary, "

Murderbal

l." The script is abetted by his documentary scribe cohort,

Marc Wiener

who also co-penned

Larry Clark

's "

Savage Innocents

." We're keeping an eye on this one cause it sounds promising and lord knows the world needs a smart and enjoyable romantic comedy.


Release Date:

TBD. It was supposed to hit the early 2010 film fest circuit, but wasn't picked up at Sundance, so it's possibly it will premiere at SXSW Film in March.
"

Jackass 3D

" - dir.

Jeff Tremaine




Synopsis:

Johnny Knoxville

and company hurt each other in new, inventive ways. Now in a new dimension!


What You Need To Know:

You don't need to know anything other than the obvious. The gang promised using "

Avatar

" technology to get into what we imagine is a combination of the throats, ears and anuses of Knoxville,

Steve-O, Wee-Man

and friends. We're not going to stand here and talk about the Brechtian elements of their on-camera pranks, but the gang (possibly guided by series producer

Spike Jonze

) has a certain flair when it comes to their more imaginative gags that make these films more (and often, wincingly, less) watchable than an interminable stunt film should be.


Release Date:

October 15th

"

Edge of Darkness

" - BBC - dir.

Martin Campbell




Synopsis

: As straight-laced homicide detective, Thomas Craven, investigates the death of his activist daughter, he uncovers not only her secret life, but a corporate cover-up and government collusion that attracts an agent tasked with cleaning up the evidence.


What You Need to Know

: Based on the hugely popular and multi-award-winning British TV miniseries, this is

Mel Gibson

's (Thomas Craven) first starring role since "

Signs

," seven years ago.

Ray Winstone

plays opposite him as the corrupt agent, after replacing

Robert DeNiro

in the role. DeNiro left, citing "creative differences," just days after filming began. After revitalizing the
James Bond

franchise with "

Casino Royale

," Martin Campbell now returns to the material that began his career (he was the director of the original series) with a script that comes courtesy of

William Monahan

of "T

he Departed

" fame. Considering all this, we think the talent behind the film could raise it from being what sounds like a run-of-the-mill thriller, a la "

The General's Daughter

" etc., but the trailer isn't particularly attractive and it's probably an entertaining revenge flick at best (we're probably being way too optimistic and we almost put this in our least anticipated picks).
Release Date

: January 20.
Indie-

ish

Films (N0n-Escapist Explosion/Action Pics) That Look Mildly To Moderately Interesting
Again, if they suck, please don't blame us. They range from looking totally intriguing to.. well,

ok

. Which are which? You'll have to read on and see how we feel about each one.


"

Middle Men

" - dir.

George Gallo




Synopsis:

Follows the true life story of businessmen

Jack Harris

and

Wayne Beering

, who pioneered porn entertainment in the early years of the internet, getting in over their heads with a colorful collection of criminal personalities.


What You Need To Know:

Lilywhite

Luke Wilson

and

Giovanni Ribisi

seem well-cast as a couple of booksmart nerds who think they can dabble in adult entertainment without repercussions. We like tough guys

James Caan

and

Terry Crews

roughing up nerds too. The story certainly seems interesting. So why is the buzz so quiet on this film, which supposedly wrapped more than a year ago? The minimal cast names certainly seems like it would be a direct-to-DVD offering, especially considering Gallo, a Hollywood lifer, last directed "

My Mom's New Boyfriend

" which went direct-to-disc with

Antonio Banderas

and

Meg Ryan

. We'll see.
Release Date: TBD

"

The Hippie Hippie Shake

" - Universal/Working Title - dir.

Beeban Kidron



Synopsis:

A chronicle of

Richard Neville

and his endeavors in 1960's counterculture namely his relationship with girlfriend

Louise Ferrier

and the launch of the London edition of his satirical magazine,

Oz

.


What You Need To Know:

Based on the memoirs of protagonist Neville, the film is led by

Cillian Murphy

and

Sienna Miller.

The film shot in late 2007 but was constantly delayed among controversies in Miller' own personal life and having its husband-wife director-writer team walk mid-production over "creative differences." One of the film's characters and former colleague of Neville,

Felix Dennis

, saw the film and described it was "possibly the worst film to be made in the 21st century," which has us more intrigued.


Release Date:

May 21 in the U.K., soon after in the U.S.?


"

Love And Other Impossible Pursuits

" - Incentive - dir.

Don Roos




Synopsis:

A woman is forced to work out new relationships with her uncooperative stepson and his acerbic mother, who is still very much in the boy's life.


What You Need To Know:

Based on the Ayelet Waldmen novel of the same name, the film stars

Natalie Portman

as the aforementioned protagonist with

Scott Cohen, Charlie Tahan

and

Lisa Kudrow

rounding off the cast. The film premiered at the 2009 Toronto International Film Festival to poor reviews so we're not necessarily dying to see it, but mildly curious regardless.


Release Date:

TBD


'

The Special Relationship

" - HBO Films - dir.

Richard Loncraine




Synopsis:

An exploration of the relationship between

Tony Blair

and

Bill Clinton

during their respective political reigns with a focus on Blair's years from when he first rose to power to his first election as Prime Minister.


What You Need To Know:

This film is the final installment of

Peter Morgan

and

Michael Shee

n's Tony Blair trilogy which was preceeded by "

The Deal

" and "

The Queen

." Morgan was originally slated to helm as well but later pulled out presumably to work on the latest installment of the

James Bond series

.

Helen McCroy

will also reprise her role as

Cherie Blair

while

Dennis Quaid

and

Hope Davis

will play Bill and Hilary Clinton.

Julianne Moore

was original set to play Hilary but later withdrew. It'll be interesting to see how the film will tackle the Monica Lewinsky scandal which will feature in the film; will Quaid reenact the infamous press conference?


Release Date:

TBD

"

Sex & Drugs & Rock N Roll

" - dir.

Mat Whitecross




Synopsis:

A biopic of of

Ian Dury

(

Andy Serkis

) who was stricken with polio at a young age and defied expectations by becoming one of the founder of the punk-rock scene in Britain in the 1970s with the group

Ian Dury & The Blockheads

(who penned the famous song and coined the phrase "Sex & Drugs &....").


What You Need To Know

: Rock biopics are always a dodgy proposition and while, Ian Dury was important to paving the way for punk (his band was more sort of the precursor known as pub-rock), name how many people that count the band as their all time favorite? Your witness. The picture looks and smells like either "

Pirate Radio

" or "

Telstar

," i.e., British rock-centric films that were either mediocre (the former) or so bad they went straight to DVD despite a great cast (the latter). The cast includes

Olivia Williams, Ray Winstone, Naomie Harris, Toby Jones, Mackenzie Crook

, but the one saving grace is hopefully Serkis, who transformed his portrayal of

Joy Division

producer

Martin Hannett

into a hilarious work of art and perhaps the best rock biopic turn of the entire decade.


Release Date

: TBD


"

The Danish Girl

" - dir.

Tomas Alfredson




Synopsis:

Based on a true story, it's a gender-bender that chronicles the story of a relationship between the first post-operative transsexual and their wife.


What You Need To Know:

First and foremost, you have the director of the beloved vampire film, "

Let The Right One In

" and secondly, you have a pretty A-list cast with

Nicole Kidman

(the female who becomes male) and the wife (

Gwyneth Paltrow

).

Charlize Theron

was initially supposed to play the wife, but she stepped out and Paltrow took her place. The picture n adaptation of the

David Ebershoff

novel, and is based off a script written by

Lucinda Coxon

("

The Heart of Me

," and also a playwright). If handled well, this tale of transgressive love could probably land in a "

Boys Don't Cry

"-type area and let's not forget it won its lead an Oscar. We're actually really looking forward to this.


Release Date:

TBD


"

Moneyball

" - Sony - dir.

dir.

Bennett Miller




Synopsis:

The story of Oakland A's general manager

Billy Beane

(

Brad Pitt

) successful attempt to put together a baseball club on a budget, by employing computer-generated analysis to draft his players.


What You Need To Know:

How exciting is a movie going to be about the GM that told his players take walks rather than swing at the bat? Putting that aside for a second, "Moneyball" comes with a ton of baggage and is perhaps the most contentious project of 2009.

Steven Soderbergh

was set to direct and then the axe got pulled at the last second and the project grounded to a halt. Then

Aaron Sorkin

rewrote

Steve Zaillian

's draft (apparently putting in many more comedy elements) and Bennet Miller ("

Capote

") was tapped to direct with Brad Pitt still attached as the lead. The numbers against this film are already astronomical. Pitt waived his fee for Soderbergh, but apparently is taking his regular $20 million pay day for this version that will have probably spent more than $35 million (not counting the elements already shot that Soderbergh filmed) before one frame of 35 mm film is shot (so they'll likely go digital). A source also tells us Pitt has also rejected two Sorkin drafts so far. Ouch.


Release Date:

TBD, but shooting isn't scheduled yet. We're a little curious if an overly-expensive baseball drama about relying on saber-metrics will ever actually make it to the screen.

"

Main Street

" - dir.

John Doyle
Synopsis:

A diverse group of residents of a small, economically moribund American city face the consequences of change produced by the arrival of a stranger in town.


What You Need To Know:

The ensemble drama is helmed by stage director John Doyle in his feature film debut and was written by late Oscar and Pulitzer Prize winning writer

Horton Foote

who wrote the script after visiting North Carolina. The film shot last year with a cast led by

Amber Tamblyn

who stars alongside

Orlando Bloom, Patricia Clarkson, Ellen Burstyn and Colin Firth

. The strong writer-director team could prove an interesting combination inspired further by Foote's passing in March last year.
Release Date: TBD

"

Tell Me

"

formerly known as "

Last Night

"

- Miramax - dir.

Massy Tadjedin




Synopsis

: Monogamy is challenged. A married couple (

Keira Knightley

&

Sam Worthington

), spend a nigh apart; the husband takes a business trip with a colleague (

Eva Mendes

) to whom he's attracted. While he's resisting his temptation, his wife encounters her past lover (French actor

Guillaume Canet

).


What You Need To Know

: A film that features Sam Worthington

and no explosions or bullets? Isn't this impossible? This is the directorial debut of the screenwriter behind "

The Jacket

" (psychological film with Knightley and

Adrien Brody

) and "

Leo

" (a Southern gothic-type film with

Elisabeth Shue

and

Joseph Fiennes

). We'll be honest, this totally flew under our radar until we started looking at 2010 release dates. We're mildly curious. Maybe just for the fact to see what it's like to watch Sam Worthington act next to things that aren't green screen puppets. It's probably also one of the last films Miramax will release in 2010 (or at all).


Release Date:

March 19, 2010


"

The Irishman

" - dir. Johnathan Hensleigh


Synopsis:

The true story of

Danny Greene

, an Irish hitman in 1970's Cleveland who took on the Italian mob.


What You Need To Know:

The use of the word "unkillable" in official synopses as well as the presence of "

The Punisher

" director Hensleigh and "

Punisher War Zone

" star

Ray Stevenson

suggests this just might be... well... an ersatz "Punisher" sequel/prequel, we guess. Stevenson, of "

Rome

" fame, is someone we like a whole lot as far as having a career of playing tough guys — he looks like he ate

Jon Hamm

— plus, he can act. Still, we'd like to see him associated with anyone other than hacky script doctor Hensleigh, who showed no aptitude behind the camera with his "Punisher" film, the worst of the three (!) released about the character.

Christopher Walken

plays a nightclub owner and

Val Kilmer

is a cop who befriends Greene, with the rest of the cast filled out with

Vinnie Jones, Paul Sorvino, Robert Davi

and oh god we just grew so much chest hair writing that.


Release Date:

TDB


"

Happy Tears

" -Roadside Attractions - dir.

Mitchell Lichtenstein




Synopsis

:
Two sisters (

Parker Posey

and

Demi Moore

) return home to deal with their ailing father Joe (

Rip Torn

), only to face some surprising situations when they discover he has a form of dementia.

What You Need To Know: It's an odd cast, Moore, Posey, and Torn as the leads with

Ellen Barkin

, but this is pretty much why we're interested and lord know Torn can be amazing when given room and a proper role. The film will premiere at the Berlin film festival in February and is directed by the man that gave us a film about vagina dentatis in "

Teeth

." Could be interesting as is the proposition as Moore and Posey as sisters.


Release Date

: February 19, 2010


"

Don't Be Afraid Of The Dark

" - dir.

Troy Nixey




Synopsis:

A young girl moves in with her father and his new girlfriend only to find their mansion haunted by tiny demons.


What You Need To Know:

This is a remake of a 1970's TV movie that curtailed the gore and scares for mainstream consumption but was actually pretty scary for its time. The original story, which must have made a big impact on the remake's writers

Guillermo Del Toro

and

Matthew Robbins

, followed a couple getting used to the fearsome goblins hiding behind every nook and cranny of their cavernous new place, but Del Toro loves his child protagonists, so this version, anchored by

Guy Pearce and Katie Holmes

, will be much different. Del Toro has passed the directorial baton to Nixey, a first-timer and popular internet personalty, so this is nerd-bait all the way, but we hope Del Toro, who has made a series of films about the macabre that aren't actually that scary, has regained his interest in scares instead of coming-of-age parables.


Release Date:

TBD

"

The Romantics

" - dir.

Galt Niederhoffer




Synopsis:

Seven close friends reunite for the wedding of two of their friends. Problems arise because the bride and the maid of honor have had a long rivalry over the groom


What You Need To Know:

The film stars

Katie Holmes, Anna Paquin, Malin Akerman, Josh Duhamel, Elijah Wood, Adam Brody

and

Jeremy Strong.




Release Date:

TBD (Sundance premiere)


"

Please Give

" - Sony Pictures Classics - dir.
Nicole Holofcener
Synopsis:

A husband and wife (Catherine Keener & Oliver Platt) in New York City butt heads with the granddaughters of the elderly woman who lives in apartment the couple owns.


What You Need To Know

: Nicole Holofcener, the indie director behind, "

Friends With Money

,"

Lovely & Amazing

" and "

Walking & Talking

" is one of the rare indie directors out there making movies about adults, for adults (and often times with strong female characters) with little concern for the mainstream marketplace (that favors characters shooting missiles out of their eyes instead of interesting conversations and pragmatic, adult dilemmas. She was going to direct her most commercial effort, "

I'm With Cancer

," but walked away at the last minute, presumably with her dignity intact. We might not flock to see her films on opening night, but we eventually see them and more importantly, we're glad she exists and continues to work.

Amanda Peet, Rebecca Hall, Kevin Corrigan

and

Thomas Ian Nicholas

co-star.
Even before its Sundance premiere in January, SPC has announced it has picked up the film which bodes well for the tentative, wait-and-see approach to distribution these days.
Release Date:

April 23rd, 2010


"

Welcome to the Rileys

" - dir.

Jake Scott


Synopsis: On a business trip to New Orleans, a damaged man (

James Gandolfini

) seeks salvation by caring for a troubled young woman and prostitute (

Kristen Stewart

).


What You Need To Know:

Yes, the name Scott is familiar, Jake is part of the Scott filmmaking dynasty that includes his dad

Ridley,

his uncle

Tony

and his sister

Jordan.

Jake has primarily done work in the field of music videos (

Radiohead, Lily Allen, The Strokes, The Verve, R.E.M.,

and

U2

), but 'Rileys' is his second feature-length picture.

Melissa Leo

co-stars as Gandolfini's estranged wife.


Release Date:

TBD (Sundance premiere)
"

Tamara Drewe

" - Sony Pictures Classics - dir.

Stephen Frears




Synopsis:

A sexy flirt returns to her small country village and stirs up dark passions among the locals.


What You Need To Know: Posy Simmond

's graphic novel, which serves as source material for Frear's adaptation, is actually a modern reimagining of

Thomas Hardy'

s "

Far From The Madding Crowd

." Young Brit

Gemma Arterton

has been tapped to lead alongside

Dominic Cooper, Roger Allam, Luke Evas, Bill Camp and Tamsin Greig

with shooting taking place in the last quarter of 2009.


Release Date:

TBD
"

The Extra Man

" - dir. Shari

Springer Berman and Robert Pulcini




Synopsis:

An aging man (

Kevin Kline

) mentors a younger one (

Paul Dano

) in the art of being a companion to older rich women.


What You Need To Know:

We're just going to pretend "

The Nanny Diaries

" never happened and imagine that this is directors Shari Springer Berman and Robert Pulcini's follow-up to the underrated "

American Splendor

." The quirky source material--a novel by "

Bored to Death

" writer

Jonathan Ames

--and great cast (

Katie Holmes

aside) seem like an excellent match, but the film's Sundance premiere will show if it can find a disributor...and an audience.
Release Date: TBA 2010


"

Eat, Pray, Love

" - Columbia Pictures - dir.

Ryan Murphy




Synopsis:

In the film based on

Elizabeth Gilbert'

s bestselling memoir, a woman travels across the world to find herself.


What You Need To Know:

The success of "

Glee

" might be making "

Nip/Tuck

" creator Ryan Murphy relevant again, but it's tough to overlook the mess he made of the star-studded adaptation of "

Running with Scissors

." We're not as excited about lead actress

Julia Roberts

as we are about the supporting cast--

Richard Jenkins, Viola Davis, and James Franco

--but it's tough to imagine a woman who wouldn't want to be in her shoes when she falls for

Javier Bardem

(minus

Anton Chigurgh

's terrifying bowl cut, of course).


Release Date:

August 13, 2010


"

Columbus Circle

" - dir.

George Gallo




Synopsis:

A reclusive heiress' life is turned upside down when a detective shows up to investigate the homicide next door and the new couple who move into that apartment invade her life.


What You Need To Know:

With

Selma Blair

as the heiress,

Amy Smart

and

Jason Lee

as the neighboring couple and

Giovanni Ribisi

as the detective, the film has a decent core of leading actors that may prove to be an interesting combination.

Kevin Pollack

co-wrote the script with Gallo and will also co-star in this indie-thriller shot in Los Angeles.


Release Date:

TBD


"

Electric Avenue

" - dir.

Andrew Wilson & Luke Wilson




Synopsis

: A buddy comedy in the vein of "

48 Hrs

" only with reporters instead of cops.


What You Need To Know:

Andrew and Luke Wilson reunite behind the camera after "

The Wendell Baker Story

," which Luke wrote. It wasn't a perfect effort, but it did show some promise. Luke will be starring alongside an unknown star which Andrew wasn't "at liberty to announce" yet but presumably it won't be Owen. Filming is slated to begin in January or February so the unnamed co-lead should be announced relatively soon, that's if their financing is still in place with this shaky film market. If it sounds rather routine, we counter with: anything to stop Luke from embarrassing himself appearing in those AT&T cell phone ads.


Release Date:

TBD
"

Twelve

" -

Lionsgate

- dir.

Joel Schumacher




Synopsis:

A young drug dealer (

Chace Crawford

) watches as his high-rolling life is dismantled in the wake of his cousin's murder, which sees his best friend arrested for the crime.


What You Need To Know:

Normally, a Joel Schumacher film gets you automatically tossed in the Least Anticipated films pile on principal (the last decent film he made was "

Tigerland

" in 2000 and reel for reel he's directed some of the biggest disasters ever. But the film has three things going for it. 1) a decent cast, but 2) more importantly it received the approval of the Sundance 2010 film festival (which also scaled back its premieres this year) and 3)

Nathan Larson

of Shudder To Think is writing the score.
Emma Roberts, Kiefer Sutherland, Rory Culkin,
Zoë Kravitz
, Ellen Barker

and

50-Cent

co-star. We're still a bit dubious, but holding out minor hope for something watchable.



Release Date:

TBD (Sundance premiere)
"

Nowhere Boy

" - Weinstein Company - dir.

Sam Taylor-Wood




Synopsis:

The story of John Lennon's childhood and adolescence which details the two battling maternal influences on his life -- his mother and aunt --, his relationship with future Beatle Paul McCartney and his early music career including the skiffle band, The Quarrymen.


What You Need To Know:

Loosely based on a book by Lennon's half sister Julia Baird and is scribed

Matt Greenhalgh

of "

Control

" fame, Taylor-Wood's directorial debut premiered at the 2009 London Film Festival but will be hitting theaters in 2010 stateside. Fellow director Matthew Vaughn, who saw the film early, described lead

Aaron Johnson

's performance as a "ten-out-of-ten.". while

the Weinstein Company

apparently loved the script so much they bought the U.S. rights after only days of shooting had been completed. Co-stars Thomas Sangster as McCartney, Kristin Scott-Thomas as Lennon's aunt, Mimi and Anne-Marie Duff as Lennon's mother.


Release Date:

TBD 2010, which doesn't entirely bode well, because it was supposed to hit December 2009, but poor reviews at the London Film Festival (including one of our own; our reviewer

hated

it), prompted the financially strapped Weinstein Company to focus on their 2009 Oscar bait and push this one onto a later
season.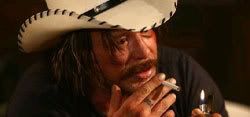 "

13

" - Paramount - dir.

Gela Babluani




Synopsis

: A young construction worker ends up an unwilling participant in a Russian Roulette league run by wealthy businessmen.


What You Need To Know

: Babluani must always remember the names of George Sluzier and Ole Bornedal. Both were lured to Hollywood for a chance to remake their own films in English. Sluzier's disastrous remake, "

The Vanishing,

" is probably a worst-case-scenario example when considering redos, while Bornedal's "Nightwatch," nearly a carbon copy of his original film, was buried for more than a year by Miramax before being dumped onto video. Both returned to their native countries and proceeded to make a number of films that have been roundly ignored by audiences and critics. Babluani is remaking his tense "

13

Tzameti

," and lest you think its a coup by casting toughies like

Jason

Statham

, Mickey Rourke, 50 Cent, Ray

Winstone

, Michael Shannon

and

Ray

Liotta

alongside young lead

Sam Riley

, remember that "

The Vanishing

" remake had an otherwise pretty damn great performance by

Jeff Bridges

. The original is not an untouchable classic, but it's a tense, affecting thriller, and there's not a whole lot of space for added Hollywood theatrics, so maybe this will be worth seeing.


Release Date

: TBD


"

The Debt

"- Miramax Films - dir.

John Madden




Synopsis

: A shocking rumor throws the lives of three retired Mossad agents, considered heroes for their assassination of a Nazi war criminal, into turmoil, exposing a love triangle and a dark secret.


What You Need To Know:

A remake of the 2007 Israeli film of the same name, we were pleasantly surprised when we read the script to this — it's by writing team

Matthew Vaughn and Jane Goldman

("

Stardust

", "

Kick-Ass

") and it's certainly the best thing they've written. Part thriller, part dark romantic drama, the cast is pretty high calibre, with

Sam Worthington, Marton Csokas

and hotly-tipped young star

Jessica Chastain

playing the young agents, and

Ciaran Hinds, Tom Wilkinson

and

Helen Mirren

playing their older equivalents. It's a great role for Mirren, and we're interested how Worthington fares away from the big-budget sci-fi that's been his calling card so far. The main question mark comes with

John Madden

, whose record in thrillers is patchy, as "

Killshot

" evinced.


Release Date:

Miramax is basically dead in the water, but this one is reportedly hitting overseas in February so TBD later in the year it seems.


"

I Love You Philip Morris

" – Consolidated Pictures Group - dir.

Glenn Ficarra and John Requa




Synopsis:

Based on an amazing true story, gay con man Steven Russell is sent to prison where he falls in love with his cellmate, Philip Morris. When Morris is released, Russell uses his considerable skills of deception to reunite with his love.


What You Need to Know:

If the thought of explicit man-on-man action makes you squeamish, then stay away from "Philip Morris"--unfortunately for you, you'll be missing what is reported to be one of the best dark comedies in years, and certainly the best Jim Carrey performance since "Eternal Sunshine of the Spotless Mind." Word is that the Sundance cut of the film has been edited to tone down the gay sex scenes for US distribution, which is a shame, though the original cut will no doubt show up on DVD. The film marks the directorial debut of "Bad Santa" writers Glenn Ficarra and John Requa, so expect to have your sensibilities offended and your heart maybe a little bit warmed. Ewan McGregor co-stars as the title character.


Release Date:

February 12, 2010
"

Morning Glory

" - Paramount Pictures - dir.

Roger Michell




Synopsis:

A TV news producer hires a famous, egotistical anchorman to salvage her low-rated morning show.


What You Need to Know:

Yeah, so it sounds like "

Anchorman

." But this

J.J. Abrams

-produced comedy has been hotly tipped for a while, and actually features a pretty decent script. Like "

The Devil Wears Prada

," also written by scribe

Aline Brosh McKenna

, this promises to be that rare film — a picture aimed at women that doesn't treat its audience like idiots. It also has the potential for another rarity
—
a non-phoned in performance from

Harrison Ford

, who takes the anchorman role, and should have fun with it.

Rachel McAdams

takes the lead, and the cast also includes the likes of

Patrick Wilson, Diane Keaton

and

Jeff Goldblum.




Release Date:

30 July 2010

So that's it for now. We'll soon have a 2010: Dare to Dream feature (a few leftovers of pictures we hoped would at least shoot this year, but that's increasingly doubtful) and then a 2010: Arthouse pics which will get into the international auteurs of the world.


- Stephen Belden, Simon Dang, Kimber Myers, Beau Delmore, Oliver Lyttelton, Gabe Toro, Katie Walsh, Alish Erman, & RP