— After the trailer debuted earlier in the week, we've more or less written off "The A-Team" movie (and, frankly, the once-promising Joe Carnahan). Nevertheless, some new stills have been released, showing the cast holding guns, Bradley Cooper wearing Denzel Washington's hipster scarf on his head, and to the left, Liam Neeson and Rampage Jackson playing a game of Clue. Is it just us, or is Carnahan cribbing from "Three Kings" in a big way here?

— Lionsgate have tapped "Freaky Friday" writer Heather Hach to turn the eternally popular pregnancy guide "What To Expect When You're Expecting" into a movie. The project, like last year's "He's Just Not That Into You," will take a popular self-help guide and turn it into an ensemble rom-com, following seven couples as they prepare for parenthood. The film will also presumably contain more scenes of vomiting than any other in history.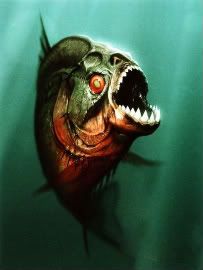 — Has "Nine" finally put the nail in the coffin of the Weinstein Company? The LA Times reports that "Piranha 3-D" has been moved back to August by the company, allegedly to avoid the release of "Kick-Ass." However, with the likes of "Shanghai," "Hurricane Season," "All Good Things" and "Hoodwinked Too!" all sitting on the shelf, it seems pretty certain that there's a financial motivation for this one. Furthermore, Shock Til You Drop says that the film won't be in 3-D when it is released, which seems like a very bizarre decision.

— ESPN and New Line are teaming up for a biopic of South Carolina firefighter Louis Mulkey, who was a high school basketball coach in his spare time. Mulkey died in a fire in 2007, and a memorial fire helmet was placed on the bench during the team's games the following season, only for them to go on to win their first ever championship. The guy sounds like a real hero, but we have no idea how you make this work dramatically. Christopher Wilkinson and Stephen Rivela, who wrote Michael Mann's underrated "Ali," are behind the script, and Mike Tollin, the producer of "Varsity Blues" and "Coach Carter," will direct.