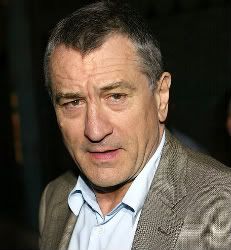 We have to admit, our eyes usually glaze over when Nikke Finke posts about which actor defected to which agency....zzzzzzzzz. Anyway, our attention perked when in the midst of her reporting about Robert DeNiro's switch from WME to CAA, two hints of some upcoming projects were mentioned that we hadn't heard about.

First up, it appears DeNiro is attached to play Governor George Wallace in Lee Daniels' "Selma" about the famous Selma-to-Montgomery marches to help get voting rights for African Americans listed in the Constitution and that helped shift public opinion on civil rights overall. DeNiro will have the meaty role of the racist governor of Alabama who butted heads with the peace protesters every step of the way, leading to events of Bloody Sunday where marchers were met with nightsticks and tear gas. Curiously, Daniels has said his film will focus on Lyndon Johnson's story as a man who has to come to terms with his own racism and ultimately side with Dr. Martin Luther King Jr. (which we're sure had nothing to do with political necessity).

Second, it's mentioned that a sequel to 1988's (that's right, it's twenty years old) "Midnight Run" is "mid-development." We have no idea how that's going to work as both DeNiro and Charles Grodin are at the age where they are far from capable of running from or after anything, but its Hollywood so they'll probably just make it one long car chase or something.

We have to say, neither of these projects are particularly exciting. The "Selma" film could be great in the right hands, but Daniels was saved by a great ensemble performance in "Precious" that kept many critics from drawing attention to its hamfisted directorial style and thin, stereotypical script. We doubt he'll be two times lucky, but at the very least, it keeps him away from directing "Miss Saigon."

Frankly, this writer (he can't speak for the entire Playlist crew) wouldn't mind seeing DeNiro get behind the camera again and direct his follow up sequels to the underrated and misunderstood "The Good Shepherd." But considering the first one cost a lot and made a little, we don't see that happening anytime soon. Hell, we'd love to see the long-gestating "Frankie Machine" or "I Heard You Paint Houses" going into development as well. Just no more dramedies or cheap cash in opportunities (there's no excuse for "Righteous Kill"), OK? Thanks.