On the eve of her film's Sundance Film Festival premiere, director Floria Sigismondi has taken to the L.A. Times to discuss her upcoming film, 'The Runaways" starring Kristen Stewart and Dakota Fanning as Joan Jett and Cherie Currie.

"It's young girls getting swept up into a world they couldn't handle," Sigismondi explains. "Feeding on those confusing feelings that develop from moving from girl to woman, I could reach deep into myself to find those things."

"I wanted to focus on Joan and Cherie. How different they are, how they were drawn together for this crazy experience. Joan is so focused, she really wanted to have this band. And Cherie wanted the rage of rock 'n' roll, the rebellion."

While a focus on Jett and Currie has always seemed a go as the script is based on Currie's 1989 memoir "Neon Angel: The Cherie Currie Story," the film's producer John Linson reveals that any attempts to detail the band were thwarted by the inability to secure life rights for both Lita Ford and Jackie Fox. Ford still features in the film though, played by Scout Taylor-Compton, while Fox is totally absent - original bassist Micki Steele is fictionalized as Robin (Alia Shawkat).

Subsequently, rather than a musical biopic of the band, the film aimed to faithfully capture the "youth ethic in film" centering on "15-year-old rock stars" and "the rise and fall of kids."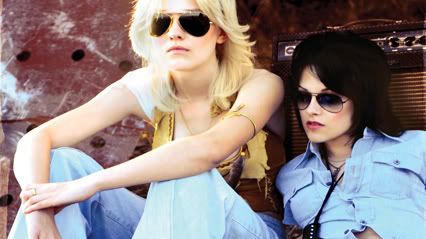 Of course, a film about rock 'n roll has to feature sex and drugs, right? Not really but "The Runaways" ticks both boxes anyway. In potentially controversial scenes, Stewart and Fanning reportedly snort cocaine in an airplane bathroom and then get up close and personal about two-thirds of the way through (perverts, take note) in a revealing make-out scene at a roller rink.

The sight of 16 year old Fanning doing drugs is surely going to have conservatives in rapture. The make-out scene meanwhile, which will likely cause just as big a stir, is inspired by Victory Tischler-Blue's rockumentary, "Edgeplay: A Film About the Runaways." In the doc, Currie "mentions that Joan is really good in bed" to which Sigismondi decided to "pry into this a bit. It will cause an explosion in the film. Why not go there?"

If anything, the film should flourish in the performance department; the quintet of Stewart, Fanning, Taylor-Compton, Shawkat and Stella Maeve, who plays drummer Sandy West, reportedly rehearsed together for over a month before shooting began. Much though will rely on the musical talents of Stewart and Fanning who laid down vocals for The Runaways' tracks to be used in the film. Stewart was under the constant guise of Joan Jett herself and, according to Sigismondi, "completely embodied the character of Joan... her body language, her face, her walk. It's amazing how she has just become her."

"We rehearsed for a long time, which was a great advantage," the director adds. "We got the girls in the recording studio, got the recordings right. Then by the time we filmed it, it wasn't lip-syncing. Because they were the ones who had done it. I put Dakota in with my husband's band so she could feel what it's like to have big drums and amps behind her – so she could feel what it's like to be a singer having to fight for the sounds. You have to use your body for that. I wanted to give her that experience."


The L.A. Times, who sounds like they've already seen the film, further detail the film's plot, which should already be gospel to Runaways fans.

The film follows Currie at age 15 as she chafes against the San Fernando Valley's suburban torpor and her family's psychological abandonment en route to becoming the most forward female face in rock. On a parallel track, Jett is shown raging against the proverbial machine, defying all cultural expectation to stake out her place as a young woman in the boys' club of hard rock while still in her mid-teens.

One night in Hollywood, Jett approaches record impresario Kim Fowley (

a scene-chewing

Michael Shannon

in campy glam drag) who introduces her to drummer Sandy West

(Maeve

) and becomes the band's Svengali. Fowley "discovers" Currie at a nightclub, installs her as frontwoman and even concocts the lyrics to one of the group's biggest hits, "Cherry Bomb," on the spot during Currie's audition. Scant character development is devoted to West and bandmate-guitarist Lita Ford (Taylor-Compton).
"The Runaways" premieres on January 24th at Sundance before hitting theaters March 19th.