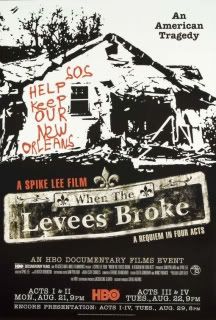 Spike Lee's 2006 post-Hurricane Katrina documentary, "When The Levees Broke: A Requiem In Four Acts," was one of the most arresting documentaries of the last decade (and ranked in our top five). The film was an elegiac and surprisingly hopeful look at the lives and loss suffered by the people of New Orleans, and celebrated the city's importance as a national cultural center. In addition to earning nearly universal acclaim, the film earned three Emmys as well.

Spike Lee and his crew are headed back to New Orleans to start filming tomorrow on a follow-up documentary for HBO that will revisit some of the subjects of the first film and expand the scope of the project to other cities affected along the Gulf Coast. While its yet to be confirmed, we imagine Terence Blanchard will be back to score the project as well.

We're excited at the prospect of Lee returning to continue documenting the efforts to rebuild New Orleans, and of late, he really seems to have found his voice in documentaries rather than feature films.