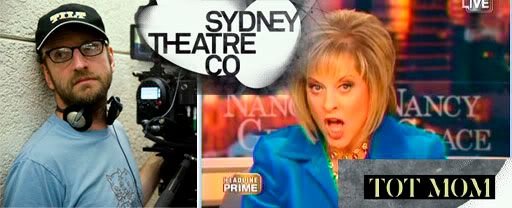 Ok, Steven Soderbergh is pretty notorious for shooting fast and on the cheap, cranking out more than one picture per year (last year he had "The Girlfriend Experience," "The Informant!" and "Che" if you count that one as a 2009 release which it was for most of the world).

But this is almost ridiculous. He's done it again. As noted earlier in the fall of 2009, Soderbergh spent December in Australia directing a play he wrote called, "Tot Mom," at Cate Blanchett's Sydney Theater company.

As we revealed a few weeks afterwards, "Tot Mom" is based on the true life events of a Florida woman, Casey Anthony, accused of killing her toddler daughter in 2008 and is centered around the crusading campaign from American legal commentator Nancy Grace to bring this story to the public eye (it's was partly based on her Court TV show, court documents and police reports). It's essentially a story about media sensation and community complicity and at the same time without glaring judgement or indictments.


Written and directed by the prolific filmmaker, "Tot Mom" featured mostly Australian TV actors like Wayne Blair, Zoe Carides, Essie Davis, Darren Gilshenan, Glenn Hazeldine, Genevieve Hegney, Damon Herriman, Peter Kowitz, Rhys Muldoon, and Emma Palmer.

And according to Muldoon (from the Sydney Morning Herald), Soderbergh, shot and banged out an additional film while working with them on "Tot Mom." Evidently the actor was sworn to secrecy and could not reveal details, but did say that the filmmaker basically shot an entire ''pretty much improvised film." The actor did note that the film has no relation to "Tot Mom," which Soderbergh has already said he will not take to the U.S. "When I was negotiating for the rights and talking to the STC, I made it very clear we were doing the show for one run," he told the SMH in mid December. "We're not taking it anywhere else and certainly not taking it to the States. I feel that you wouldn't get a clean response to it in the States; the whole thing would be too colored by events" (the trial is finally scheduled to begin next month, and if the mother is found guilty she faces the death penalty; Soderbergh also donated his entire fee for directing the play to charity).

If all goes according to the filmmaker's plan, he will have shot three films in 2010. 1) the aforementioned improvised project, presumably like, "Bubble" or "The Girlfriend Experience," but even more off the cuff, 2) "Knock Out" his action spy film set to shoot in February and 3) "Liberace" with Matt Damon and Michael Douglas which he hopes to shoot in the summer.

His Spalding Gray documentary, "And Everything Is Going Fine" hits Slamdance in January. This man apparently does not sleep.