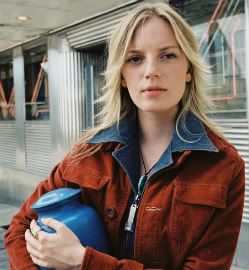 So, we reported yesterday on the casting of Seth Rogen and Michelle Williams in Sarah Polley's follow-up to "Away From Her," a romantic drama entitled "Take This Waltz" (named, of course, after the Leonard Cohen song). We've managed to nab a copy of Polley's script (which featured on the 2009 Black List), and thought we'd take a little look to see what's in store.

The film is essentially a love triangle story between a married couple and mysterious artist type who befriends the wife and then makes her begin to question everything and unsettle her mostly happy existence. Yesterday when we skimmed the script we thought Seth Rogen could possibly play either role, but having got in deeper, that's clearly not the case (though Rogen may need to put back on some of his lovable schlubby weight). Read on...but some mild spoilers ahead, but don't worry, we don't give away anything crucial or how it turns out in the end.

Filled with music cues, the script opens with Nouvelle Vague's cover of PiL's "This Is Not A Love Song" (and again many specific song references written in, from the likes of Micah P. Hinson, Feist and, of course, Cohen himself), as 28-year-old Margot (Michelle Williams) makes muffins, with an unseen man joining her as she watches them rise. The next shows "Well choreographed, familiar sex" between Margot and her husband Lou (a cookery writer, preparing a book of chicken recipes, this would be Seth Rogen's role) — a couple who clearly love each other deeply, but the early scenes we see of their relationship show an awkwardness of familiarity. Margot worries that, after five years, she has nothing to say to his husband, and they lapse into games and routines, the two breaking into an almost parental relationship, with Margot putting on a baby voice ("No one's even making me bweakfast. I m'wad at you"), or giving each other "Punch-Drunk Love"-style violent compliments ("I love you so much I'd like to inject your face with a curious combination of ebola and wine flu!").


We were a little hesitant/worried from these early scenes, which are well-drawn, genuine, and almost poetic in places, but almost over-familliar, and err towards being a little twee; the "Juno"-haters are going to have an embolism. However, the script kicks in a gear swiftly, when Margot goes on a business trip to Louisborg Fortress in Nova Scotia (she works as a literature pamphlet writer for Heritage Canada, and in many ways the ancillary stuff around the story is very Canadian). On a guided tour of the site, she meets Seth, a man the same age as her, "Dark, tousled hair. Strange and attractive" (we thought Rogen could play Seth, but this can't be it, it's much, much more a Jim Sturgess handsome, hipster-lean type). They end up sitting next to each other on the plane back, and there's an instant connection, lots of genuine flirting, laughter and butterflies in the stomach. Coincidentally — perhaps too coincidentally as story plots go — it turns out they live across the street from each other, and in the cab back, Seth tells Margot flippantly and somewhat cockily, "Oh yeah. As though we didn't just fall in love."

Margot's clearly terrified by the flirtation, as it seems to confirm her doubts about her marriage, but she can't help herself from being drawn to Seth, and they continue to meet. The two are both frustrated artists, Margot continually delaying writing her novel, Seth being a painter who's afraid to show his work to others, and they dance around each other for some time. Both of Margot's relationships are incredibly well-drawn, and the dialogue sparkles for the most part — Lou's a little less fleshed-out than Seth, although it sort of works in the context in the piece as a whole.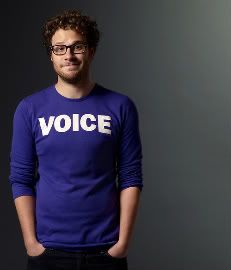 It's very charming initially, unexpectedly very funny, in a quiet way, which is something we didn't expect, considering the wrenchingly emotional nature of "Away From Her," so it makes more sense that Rogen's involved. But the emotional tone of the script is mostly pretty heavy — Margot loves Lou, but she's fallen in love with Seth, and as soon as she meets Seth, it becomes an impossible situation, and your heart breaks for all three leads. It's as honest and unflinching a look at people in their late '20s (there's a wonderful scene where Margot talks about her own sexuality, for example, of a kind that you rarely see) as "Away From Her" was for people in their '60s, and Polley isn't afraid to make her characters unsympathetic in places. All these thoughtful characterizations counterbalance what sounds cliche from the outset — a happy female tires of her very amiable, attentive, put perhaps average husband when allured by the mysterious, sensitive artist type next door.

It's not perfect by any means; there's a slightly redundant subplot involving Leo's sister, a recovering alcoholic, and there's a strange, "There Will Be Blood"-style time leap about 15 pages before the end which feels a bit rushed. Some will find the characters, particularly Margot, self-absorbed, but it wouldn't be an honest film about twentysomethings if it didn't show a certain amount of narcissism, now, would it? In fact, given that Polley's 31, it feels like a slightly older twentysomething reflecting back on the impetuous mistakes many of us made in our youth; given that sentiment it could really crushingly connect with a 20-30-something audience — yes, 31 isn't instant wisdom, but Polley is an old soul). But all in all, considering the cast she's assembled, and the directing chops she showed in her first films, we're eagerly awaiting the finished product on this one.