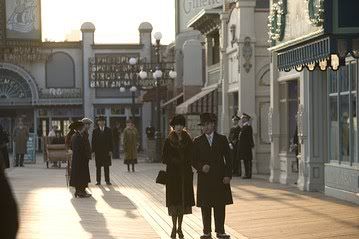 The teaser for the forthcoming HBO series "Boardwalk Empire" has landed online and it gives us a sneak peek at what's in store. So why do we care about an HBO show? Somebody named Martin Scorsese is directing the pilot episode.

The series, written by "The Sopranos" scribe Terence Winter, uses the book by Nelson Johnson "Boardwalk Empire: The Birth, High Times and Corruption of Atlantic City" as a jumping off point to explore Atlantic City in the roaring '20s. The series will detail the life and exploits of Nucky Thompson (Steve Buscemi) who is based on the real life person Enoch "Nucky" Johnson, the "boss" of the Republican political machine that controlled Atlantic City from 1911 to 1941. The cast is rounded out by Gretchen Mol, who plays a showgirl involved with Nucky; Dabney Coleman who plays his mentor and Omar Little from "The Wire" (Michael K. Williams) playing somebody named Chalky White. And as some readers have pointed out, Michael Pitt and Michael Shannon appear in the teaser as well.

The pilot episode kicks off the series on January 16, 1920, the day Prohibition took effect. The show looks like it's going to have a blast taking the viewer in and out of the speakeasies and high life the era afforded and given the talent involved on both sides of the camera, we're pretty excited for this.

"Boardwalk Empire" starts this fall on HBO.