A writer has now been hired for the "Daredevil" reboot. Fox has (un)wisely chosen, David Scarpa the genius scribe behind "The Day The Earth Stood Still" fame. His version will follow the godawful 2003 Mark Steven Johnson version starring the likes of Ben Affleck, Jennifer Garner and Colin Farrell. Most geeks liked or at least tolerated the picture at the time, but now look back on it with embarrassed revulsion.

"Iron Man 2" director Jon Favreau recently revealed via a Twitter Q&A that his new film will take place before "The Incredible Hulk" in the Marvel universe chronology. Revelatory. Is your mind blown?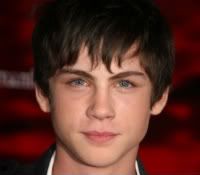 The kid from "Percy Jackson & the Olympians: The Lightning Thief," Logan Lerman is now backing-away/backpedaling on his comments that he was in discussions with Sony for the role of "Spider-Man" in the to-be-helmed-by Marc Webb reboot. "To be honest, it's a role that any young actor is dying to play and I'm just hoping to be considered," Lerman told MTV. "I'm just a huge fan." Amusing, so he was just talking himself up then to start the rumor?

Despite the unsubstantiated rumors, a new 3D "Gremlins" film is not on its way, according to both Chris Columbus and Steven Spielberg. That was easy to figure out. It was a Marketsaw rumor and about 50% of their reports (at best) are correct. A second "Goonies" film is in the works though Columbus doesn't have any ideas yet. Hopefully that paucity of concepts lasts for a decade and the entire idea passes. Why mess with The Goonies?


Oh god, laughable. Scott Stewart's Paul Bettany led "Priest" has now been delayed until January 14th, 2011 as it gets the, you guessed it, 3D treatment. Stewart and Bettany, the next Scorsese-De Niro? But wait, "Clash Of The Titans" takes about two weeks to get re-upped to 3D, but this masterpiece in the waiting has to wait an additional six months? Nope, tellingly, it went from a season that's not quite the dumping ground it was (August), to one that still is very much where studios go to dump mediocre properties.

Amber Heard and William Fitchner have joined the cast of Patrick Lussier's "Drive Angry," starring Nicholas Cage. At least the film has a unique 3D gimmick, centering on a man seeking revenge for his daughter's killer/granddaughter's kidnapper which leads to a bloody car chase.