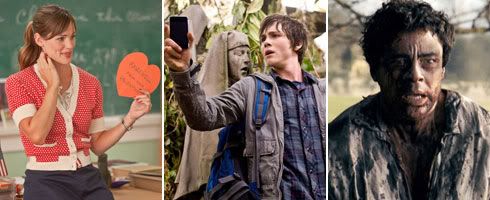 We'll have to wait for next's week's release of Scorsese's latest "Shutter Island" to get too excited about anything new, but the box office should get a big boost this week with three high-profile films opening wide. "Valentine's Day," "Percy Jackson," and "The Wolfman" hit screens nationwide and should conquer the top three slots this weekend. Hopefully you're too busy building snowpeople or lavishing romance upon someone to contribute. We suspect "V Day" will take the top slot this weekend, but expect it to drop very, very quickly in the coming weeks. It has been an ugly year so far at the theater, but things will get better. We hope.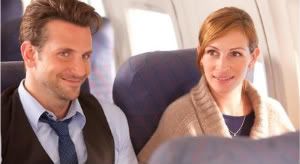 In Wide Release: Moved up from its original release date of Flag Day comes the very convenient "Valentine's Day" from director Garry Marshall. Here's the plan: gather a bunch of big stars together for a day or two of work, cobble the footage together and rake in a nice wad of cash opening before bad word-of-mouth destroys the buzz. Julia Roberts, Bradley Cooper, Anne Hathaway, Jessica Biel, Jessica Alba, Jamie Foxx, Taylor Swift, and Jennifer Garner are among the high wattage lineup earning a quick buck. An easy way to take a paycheck and not have to worry about the film's poor reception falling on your shoulders alone. Rotten Tomatoes gives the film a dismal 15% rating, while Metacritic a slightly more favorable score of 35.


Chris Columbus returns to attempt to jumpstart another kid-fantasy franchise with "Percy Jackson & the Olympians: The Lightning Thief." Instead of a boy-wizard, the director of the first two "Harry Potter" films this time finds himself shepherding Percy (Logan Lerman) a young man who finds out he is, in fact, a demi-god. Much like the Potter series, the film has a number of fantastic actors in supporting roles including Pierce Brosnan, Uma Thurman, Steve Coogan and Sean Bean (as Percy's father Poseidon). Unfortunately, this one looks more like the banal "Night at the Museum" movies or a bad cover version of "Half Blood Prince." The review are appropriately mediocre with a rating of 54% from RT and a score of 48 from Metacritic.


Originally set for release way back in 2008, "The Wolfman" finally hits theaters today after a much-troubled post-production involving many re-edits of the film. Benicio Del Toro stars as the man turned wolf alongside Emily Blunt and Anthony Hopkins. While the casting sounds great and the actors are game, Del Toro's character is never given the chance to establish himself or build any kind of connection with the audience. The story just isn't there, and believe it or not, the story was what made these classic horror films special. We reviewed it yesterday finding that Joe Johnston's film failed on just about every level other than the occasionally imaginative, but gratuitous gore. Rotten Tomatoes is tracking the movie with a 30% rating; Metacritic a 44 score. We kinda told you so, no? This does not bode well for Johnston's "Captain America," and as we've been saying all along, we have no clue why geeks lionize this director. Better they learn the hard way regardless.

In Limited Release: "Crazy Heart" and "An Education" among other Oscar hopefuls will see expansion this weekend, so there should be plenty to see if you've been slow catching up. In much more limited release, a couple interesting documentaries are hitting a few screens. "American Radical: The Trials of Norman Finkelstein" is a portrait of the provocative intellectual son of Holocaust survivors and noted critic of Israel and U.S. Middle East policy. RT has it at 100%. "Videocracy" traces the importance of Italian television on its culture and politics as well as getting under the skin of the media empire created by Prime Minister Silvio Burlusconi. RT reports it at 80%.

Unless you live in a limited release city (generally new York or L.A.) we advise you to either catch up on strong pictures like "Crazy Heart" and "An Education" or just stay at home and save your money, because the mainstream new-openers this weekend are total gash.