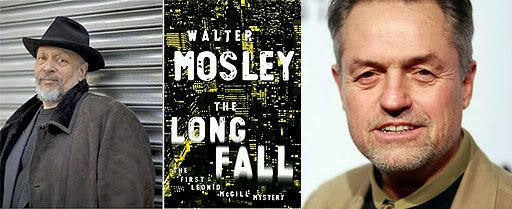 Good Lord, it seems like every day we're announcing new HBO projects. They seem to be busier these days than Hollywood studios these which may be why they keep on attracting A-list talent.

The latest from the cable channel will be a detective series based on Walter Mosely's new detective series "The Long Fall." The first book in the series which hit shelves last spring introduced readers to Leonid McGill, a New York City private detective and former boxer. Mosely is best known for his LA-based Easy Rawlins detective stories (one of which, "Devil In A Blue Dress," was made into a movie), in which he brilliantly addresses the complex racial politics of 1940s and 50s era among familiar pulp surroundings. Undoubtedly, his latest series will continue in that vein. Director Jonathan Demme has come aboard to co-write and direct the pilot.

Clearly, the creative freedoms afforded on cable are beginning to look far more enticing than shepherding projects through a newly 3D obsessed studio system.

While there's no word yet on when we might see "The Long Fall," there is plenty to keep our attention for now. Here's a recap of what we can expect from HBO in the next little while: "Tilda," the Nikki Finke inspired Hollywood comedy; "Emergency Sex," the humanitarian worker drama with Maria Bello and exec produced by Bello, Russell Crowe & Simon Beaufoy; groupie memoir "I'm With The Band" starring Zooey Deschanel; FBI crime unit drama "Mind Hunter," developed by David Fincher & Charlize Theron; "Boardwalk Empire" starring Steve Buscemi, Gretchen Mol, Michael Pitt and Michael Shannon with a pilot directed by Martin Scorsese and "Luck" with a pilot directed by Michael Mann.

And that's a condensed version.