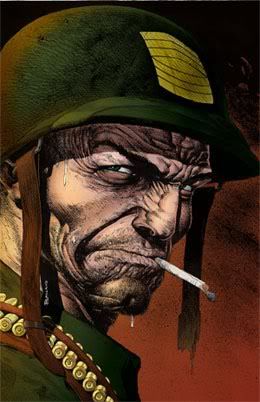 For those of you who aren't up on your slightly more obscure comic book heroes, Sgt. Rock was first created in 1959 but not popularized until the late 1970s. The comic followed the adventures of the U.S. Army solider as he battled through various WWII settings blessed with a crack shot, street fighting skills and near superhuman strength. In short, he was your prototypical American hero fighting through the nation's biggest war.

Last fall, it was reported that the long-gestating "Sgt. Rock" film (once thought to be a project for Arnold Schwarzenegger many moons ago when he was actually a star) would lose its WWII origin story and opt for something a little more contemporary. Well, scratch that idea. Producer Joel Silver has confirmed that the story will actually be set "...a little bit in the future." As we wrote back in November, stripping the setting of the comic sort of makes the point of adapting the original source material moot, but never let logic get in the way of potential Hollywood franchise. Silver confirms that Chad St. John's script and director Francis Lawrence are still involved, but that the project is "not a 'go' movie yet."

Silver has his hands full with a variety of other projects that will probably keep "Sgt. Rock" to the sidelines for a little while yet. There is his other comic adaptation, "Lobo" sitting in the stables as well but that film lost director Guy Ritchie who will shoot the Silver produced, fast-tracked "Sherlock Holmes" sequel this summer.

The "future" move sounds pretty typical Silver because it's a "cooler"-like move that audiences today will take to, but pretty much antithetical to the comic and seems kind of desperate.