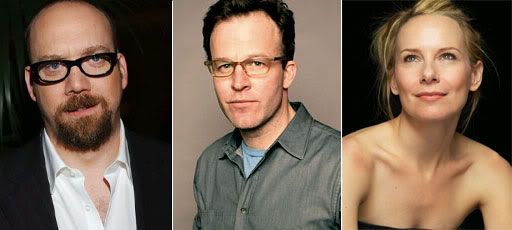 Now we know why Paul Giamatti was hanging out with Tom McCarthy last month as the writer/director traveled to New Jersey looking to cast one of the lead roles in his upcoming high school wrestling film, "Win Win."

As we guessed, Paul Giamatti has been confirmed along with Amy Ryan for Tom McCarthy's film which will now be handled by Fox Searchlight. As we previously reported, the film is about "how a rough-and-tumble runaway changes the lives of a suburban New Jersey family and turns around the luck of a high school wrestling team." McCarthy's script was inspired by some of his own experiences and he's seeking an unknown to play the kid. He's taken a shine lately to casting unknowns after a positive experience when directing the pilot of HBO's "A Game Of Thrones" last fall.

Shooting on the film will start in April and we wouldn't be surprised if Fox Searchlight is aiming for a Oscar season release. As for McCarthy he will be at this year's ceremony hoping that "Up," which he helped write, brings home a statue.