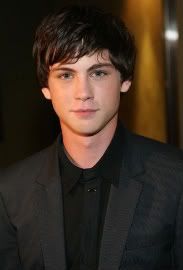 Press junkets kicked off today for the bland-looking kid's adventure "Percy Jackson & the Olympians: The Lightning Thief," and Access Hollywood were the first to break what seemed like big news, as the film's 18-year-old star, Logan Lerman, revealed that he was in talks to take the lead role in Marc Webb's reboot of the "Spider-Man" franchise. The report subsequently spread across Twitter and the blogosphere like wildfire.

Of course, there's been a certain amount of gun-jumping by all involved, including Lerman. The actor told Access Hollywood that "It's one of my favorite characters ever and I'm a huge fan of the series. I'd love to have more conversations about it. I'm definitely very interested in it... It's just you know, conversations are starting. It's a long process with the studio and the producers and everything. But it's definitely a project that I'm really interested in, of course." (You can see the full interview below.) It sounds like, based on this, he hasn't gotten much further than being asked to come in for a meeting, or even just had an encouraging phone call from Sony.


This was confirmed pretty quickly by the Hollywood Reporter, who received denials both from Columbia Pictures, and from Lerman's management, the following telling the trade "No offers have been made, nor have any business discussions been made with Lerman." Indeed, even Marc Webb's deal hasn't even been closed yet (which is sort of intriguing, as it sounded like he was locked in weeks ago), and we'd at least like to think that Sony would wait until the ink was dry on Webb's contract before informing him which Tiger Beat cover star he was being forced to cast as Peter Parker.

So it sounds like Lerman got a little carried away, and tried to get his name out there, but he may have screwed himself out of a job, as studio executives don't always take that kindly to this kind of leakage. He was actually pretty good, as far as we remember, as Christian Bale's son in "3:10 To Yuma," so it wouldn't necessarily have been a terrible choice, but we imagine most of the actors of Lerman's age in Hollywood could also claim that they were having "discussion" with the studio, plus, as The Hollywood Reporter suggests, Lerman would be tied to future "Percy Jackson" sequels if that movie's a hit. This does, however, at least suggest the kind of actors that are being looked at for "(500) Days of Spider-Man," and seems to confirm the teen-angled, emo-Gen-Y, Jonas Bros/"Twilight"-influenced direction that some have feared.