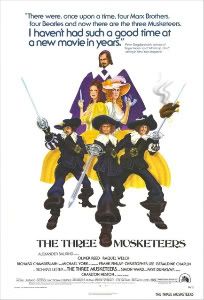 Reboot, reboot, blah blah blah reboot. Or to translate, after Warner Bros' version of "Sherlock Holmes" for whatever we're calling this new decade (Is there a memo we didn't get? The Teens? The Tenties?) proved a hit both critically and commercially, studios are clearly on the lookout for other out-of-copyright literary properties that can be turned into sexy action movies. Warners are now developing a new version of "The Three Musketeers," with former executive, and "Sherlock" producer, Lionel Wigram shepherding the project.

Peter Straughan, writer of the recent "The Men Who Stare At Goats" will adapt Alexandre Dumas' novels "The D'Artagnan Romances" (made up of "The Three Musketeers," "Twenty Years After" and "The Vicomte of Bragelonne"), in a manner that Variety says "will play up the action and sexier elements of the story much the same way that Wigram... reimagined the detective as a bare-knuckle boxing, martial-arts savvy sleuth molded by Robert Downey Jr."

Aside from Richard Lester's enjoyable 1973 take on the material, which spawned two sequels, Dumas' novel hasn't fared well in its recent cinematic adaptations, from Stephen Herek's 1993 "Young Guns"-influenced take, to the mediocre "The Man In The Iron Mask" and Peter Hyams' disastrous "The Musketeer," so a fresh take could theoretically be fun, and "Sherlock Holmes" was far more enjoyable than we were expecting. But then, both Herek and Hyams' versions were 'fresh takes,' so, you know... No cast or director are yet attached - Taylor Lautner for D'Artagnan! Paul W.S. Anderson, director of "Resident Evil," is also developing a 3-D take on the books, which we dearly hope never gets made.