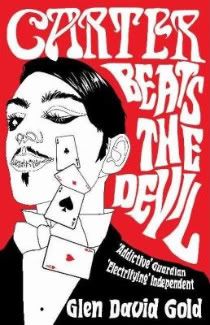 Easily one of our favorite novels of the past decade was "Carter Beats The Devil," by Glen David Gold, a genuinely thrilling, epic novel following the (fictionalized) later career of real-life magician Charles Carter, taking in a pair of love stories, the death of a scandalized president, and the invention of television. It's screamed out for a film adaptation, and was indeed optioned shortly after publication by Tom Cruise, who hired Robert Towne to write and direct the project.

That never materialized, Cruise's option lapsed, and it's been lying dormant for a few years -- perhaps partly because of the lack of financial success for other magician-based projects such as "The Illusionist," "The Prestige" and "Death Defying Acts." However, a few weeks back, Film School Rejects wrote a piece advocating an adaptation of the book, which led to some emails with Gold himself. At the end of last week, the site received another message from the author, saying "Warner Brothers just optioned Carter this afternoon. And yes, that's something you can talk about. Let's keep fingers crossed." Obviously, it seems like early stages, but, almost a decade after the book was published, it's unlikely that Warners would buy the rights to the book unless a director or star had a desire to make the project, so we imagine we'll see a formal announcement fairly soon.

Film School Rejects took a pretty good stab at fantasy casting the project, picking Rian Johnson to direct (a choice we thoroughly agree with), and a cast including Adrien Brody, Barry Pepper, Charlize Theron and Stanley Tucci. While this is obviously only speculation, any prospective adaptation could do a lot worse. We can also thoroughly recommend Gold's follow-up novel "Sunnyside," published last year; it's not as fully realized as "Carter," but, with much of the story focusing on Charlie Chaplin, it's a must for any silent film buffs.