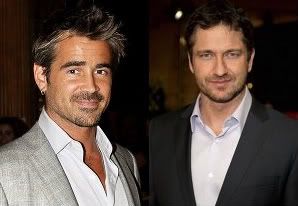 Back in January, Antoine Fuqua was tapped to direct the spy thriller "Consent To Kill" and now the casting the lead role is beginning to take shape, and some big name actors are being considered.

Deadline Hollywood reports that Colin Farrell, Gerard Butler & Matthew Fox are the three leading contender for the part. Based on the novel by Nick Flynn, the film is about "counterterrorism agent Mitch Rapp" who battles "a vengeful Saudi billionaire, an ex-East German Stasi spy and a husband-and-wife team of assassins -- all while dealing with a knee injury." It was adapted by Jonathan Lemkin ("Shooter," "Lethal Weapon 4") so don't expect your brain cells to be too overworked with this one.


Butler is apparently the front-runner, but Farrell has CBS Films CEO Amy Baer on his side who supervised "S.W.A.T." and saw what he could do in an action role (besides take Jeremy Renner out drinking). The wild card of the pack is Matthew Fox, who is "aggressively" pursuing the role and presumably looking for something meaty once the final (and so far, disappointing) season of "Lost" wraps up. The film is based on just one of a series of novels and has the potential to turn into a franchise for whoever lands the role.

A summer start date for the film is being eyed so expect a decision to be made shortly.