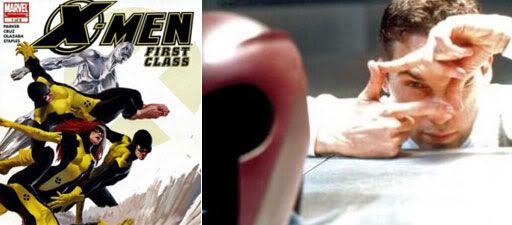 Looks like that report earlier in the week was on the money. And especially that quote Bryan Singer gave to the LA Times that said, "I wish I could be four people. I could make everybody happy."

The "X-Men" director simply has too much on his plate and won't be able to direct "X-Men: First Class" — a sort of retelling of the original X-Men saga from a more teenage perspective (we've joked all along and called it, "X-Men Muppet Babies" surely, Fox wants to make "X-Men" with hot "Twilight" teens that kids go crazy for). Instead he's going to be on board in a producer capacity according to Deadline Hollywood.

As reported earlier in the week, Singer has obligations to Warner Bros.' "Jack The Giant Killer" which is already deep in pre-production and even has location scouted so that's definitely next and will occupy his time for more than a year (and it may even shoot in 3D, naturally). The problem is 20th Century Fox loves the script that Jamie Moss ("Street Kings") wrote based on Singer's treatment and they want the film ready for 2011.

That will be an impossibility with Singer at the helm, so now he'll be joining Lauren Shuler Donner and Simon Kinberg as part of the producers on the film. This also certainly means that any hope for Singer's involvement as director of "Wolverine 2" — supposedly shooting in January of 2011 — is out for the filmmaker of "X-Men" and the rather beloved "X2." Still the bench mark in the series thus far. Though note, Deadline says "Wolverine 2" could start in the fall when Jackman the Shawn Levy-directed "Real Steel."


While fans will be disappointed to hear this news, this move bodes well for Singer's continued involvement in the "X-Men" franchise and with talk of a fourth "X-Men" film already gestating — likely no earlier than 2012 — comic movie zealots can at least look forward to hearing how those mutant discussions will evolve. Fox is evidently shortlisting directors as we speak, much like Hitfix already suggested (and seems to already know who they've been talking to).

"X-Men" fans will also be keen to hear that Moss script actually focuses on a younger Prof. Xavier and Magneto and apparently takes a J.J. Abrams' "Star Trek"-like approach to the rebooting of these characters. Deadline also notes that Fox is percolating reboots of "Daredevil" and "Fantastic Four" as has already been reported.