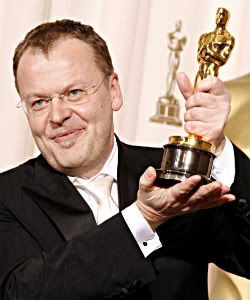 "The Counterfeiters," the Austrian movie which won the Academy Award in 2008 for Best Foreign Language Film, was very well made, and fairly gripping, but we did think it was something of a middle-of-the-road choice for the award particularly when half a dozen more deserving films (including "The Diving Bell and the Butterfly," "4 Months, 3 Weeks, 2 Days," "Black Book," "The Host" and "Syndromes and a Century") all failed to be nominated.

The film's director, Stefan Ruzowitzky, whose previous credits included the Franka Potente-starring horror film "Anatomy," followed his Oscar win with the Austrian kids film "Lily and the Witch: The Dragon and the Magic Book," but he's finally crossing the pond to make his Hollywood debut. The helmer is in negotiations to direct the long-gestating "The Last Voyage of the Demeter," which tells the story of the ship that Dracula sailed to England on - a boat that, in Bram Stoker's original novel, arrives with only one survivor, who's been driven mad.

The script, by "Season of the Witch" writer Bragi Schut, has been circulating for nearly ten years, and has previously had Robert Schwentke ("The Time Traveller's Wife") and Marcus Nispel ("The Texas Chainsaw Massacre") attached, but Nispel bailed on the project to direct "Conan," leaving a space for Ruzowitzky to step in to. The Hollywood Reporter compares the film to "Alien," with the ship's crew being picked off one by one by an unknown assailant (well, unknown except to the audience...), and there's certainly a risk that, the unusual setting aside, the film could end up feeling like a generic horror movie, so upgrading from Nispel to Ruzowitzky is a step in the right direction. With all the vampire themed television shows and movies having come our way in the last couple of years, this is actually a great part of vampire lore that's never really been explored. We'll keep our eye on this one.