One of the biggest breakout hit shows of the last few years in Britain is the teen drama "Skins." Focusing on a group of hedonistic teenagers living in Bristol, the series has recently finished its fourth season, and is about to bring on its third cast (to keep the show relevant to its young audience, the cast is replaced every two years). The first two series launched the careers of Nicholas Hoult ("A Single Man") and Dev Patel ("Slumdog Millionaire"), while series three and four is led by Kaya Scodelario ("Moon," "Clash of the Titans"). It airs on BBC America in the States, but a pilot episode for a U.S. version, set in Baltimore, was recently filmed for MTV.

"The Scouting Book For Boys" screenwriter Jack Thorne, who wrote some of the best episodes of the series, confirmed to The Observer over the weekend that he's been hired to write a film version of the series, which will unite the surviving members of both casts. The project's been in the offing for a while at Film4, but the hiring of Thorne suggests real forward momentum on the project.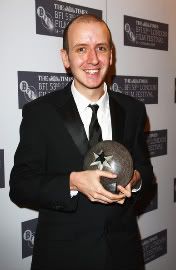 At its best, the series is very, very good indeed (a second series episode that guest-starred Peter Capaldi, Malcolm Tucker from "In The Loop," is one of the most powerful pieces of TV drama we've seen in the last few years), but the show's format, of focusing on one character per episode, and its tendency to go for shock value instead of believability, holds it back, and can lead to inconsistency. We're a little concerned at the sheer number of characters the film promises to focus on (seventeen main characters across the two series, excepting the two who've been killed off), but Thorne is an immensely talented writer, so if anyone can pull it off, it's him.

At the very least, the film should have an excellent soundtrack; the show's become increasingly influential on British music, an early trailer for the show featuring Gossip's "Standing in the Way of Control" single-handedly launching the band to festival headliner status, and the show features an enormous amount of pretty great music; the last series alone featured tracks from the likes of Grizzly Bear, Dinosaur Jr, HEALTH, The Drums, Bonnie Prince Billy, Sparklehorse, Battles and Nick Cave & The Bad Seeds. As a taste for the movie, we've embedded below one of the show's boldest musical choices - the "Magnolia" referencing Season 1 finale, which features the show's cast breaking the fourth wall and singing along to Cat Stevens' "Wild World"