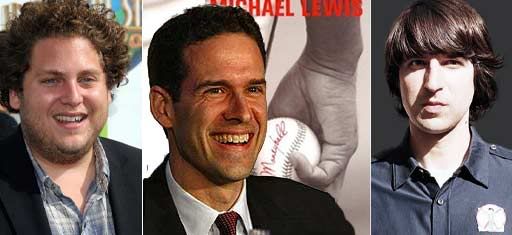 Yes, in case you thought it was dead in the water, "Moneyball" is still a living, breathing project that Sony exec Amy Pascal is still hoping to bring to the big screen, but perhaps in a hugely revised version that is nowhere near what Steven Soderbergh had in mind when his film was canned literally days before it was set to go in front of cameras.

We'll try to keep the history concise, so bear with us. After Soderbergh's film was canned for a variety of reasons, none confirmed (as everyone around the project, most notably Soderbergh, has largely kept mum), each containing some version of the truth (it wasn't commercially viable; the MLB didn't give the go ahead, etc.), the director moved on to the number of other projects in his every growing stable. From there, Aaron Sorkin came on board the project and according to multiple sources, has now handed in over three drafts, none of which have met with Pitt's approval (who, remarkably, is still attached). Bennett Miller ("Capote"), who took the vacant director's seat in December, according to our sources nearly left the project himself at one point in the last few months, but is still on hand.

But the latest shakeup is that, according to our two different sources and confirmed by ESPN, Demetri Martin attached since the film's early days, is now set to be replaced by Jonah Hill. The idea apparently one that comes from Pascal herself, and in our eyes it seems to be an attempt to give the film broader commercial appeal. From what we hear, the film there are ideas being thrown around to give the film a romantic comedy or bromance angle (we hinted at some of the comedy injected into the screenplay a few months ago), which seems to put the film a far cry from Michael Lewis's book about baseball statistics and management (and Soderbergh's initial quasi-documentary approach).

The film is now on its third director and third screenwriter (David Frankel of "Marley & Me" fame was attached before Soderbergh, but was then eventually given the axe), yet, fascinatingly enough Brad Pitt is still on board (which is probably why they're continuing to throw money at this) but we can only imagine that if it drags out any longer, Pitt may just end up moving on probably putting a kibosh on the project altogether.

We don't need to remind you that Soderbergh has the rest of the year and early 2011 mapped out, and as for Hill, it's another project on his seemingly endless string of projects that now bear his involvement. Spring training is around the corner, but this continues to be the only baseball story we really care about.

What will eventually happen with this project? Who knows, but remember that Marc Webb is Sony's new golden boy. He was once attached to "Moneyball" and for good reason. His father was a statistician, he loved the Michel Lewis book and he was apparently devastated when the project didn't work out for him. But now he's signed on for a three-picture deal with Sony, with project #1 being "Spider-Man" in 3D. It's probably off his time-table right now, but he did want it pretty badly and this thing still seems to be spinning its wheels....