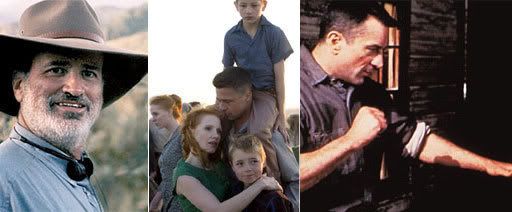 Brad Pitt already played a 'Basterd,' in Quentin Tarantino's recent WWII drama, but of course that character was likable, witty, charming and not really as ruthless as the man you saw on the page (relatively anyhow); it sounds like he's going to be playing a true bastard in Terrence Malick's "The Tree Of Life."

Be forewarned, possibly spoilerish hints at story details below.

We already know that Malick's long-gestating picture is a drama that ferries between a father in the 1950s (Pitt) and his son Jack (Sean Penn), now grown up decades later. We also know that the film revolves around this father-son relationship and a tragedy that befalls the family. Or as one synopsis goes, it's "the story of a family who must come to terms with a devastating loss. In doing so, they discover life's most important lessons of unselfish love and forgiveness."

If you've read enough of the various synopses, you know it's a film that at least partially centers around Jack's issues with his father, which is essentially confirmed by a comment Bob Bearney of Apparition (the studio that is releasing the film in November), made to Peter Hammond.

The studio head boasted that the performance Pitt delivers will "see a side of [him] we haven't seen before," and compared his performance to Robert DeNiro in "This Boy's Life," the 1993 family drama set in the 1950s. 'Life' starred DeNiro as a man who marries a single mother (Ellen Barkin) and becomes stepfather to her son, played by Leonardo DiCaprio. Initially docile and kind, after a few months of ingratiating himself to the family, the stepfather quickly becomes tyrannical, and abusive both emotionally, verbally and physically. It's a powerful film that introduced most of the world to the dramatic chops of the young DiCaprio and is a further testament to the ferocity of a mean spirited DeNiro performance

So, comparing Pitt's character to DeNiro in that film? A performance we've never seen from the actor? Does that mean we're going to see an older man (Penn) who is still grappling with the resentment and bitterness he feels towards his father as an adult because of his abusive past (perhaps inspired or further exacerbated by a family tragedy?). Well, considering what has been kicking around and this new information, we'd put money on it.

Btw, despite Apparition putting on a good face, as we've already suggested, "Tree of Life" may not make Cannes, and based on things we're hearing on the ground here in Austin -- Malick's hometown where part of the film was shot -- this may end up being the case. No one wants to push a maestro, so if he's not 100% ready, he's not 100% ready...

Bearney also tells Hammond to watch out for the performance by Jessica Chastain (the mother of Penn and the wife of Pitt, pictured above) and that, "the movie is like a dream and Malick fans are going to be extremely happy." Hmm, does that reinforce some of the afterlife sequence rumors being shuffled around? On that story point, your guess is as good as ours. If you want to know more, we also dropped some clues in an old post no one seemed to notice, as someone has already told us a few more key points that are very spoiler-ish (that we don't reveal either, but have hinted at).