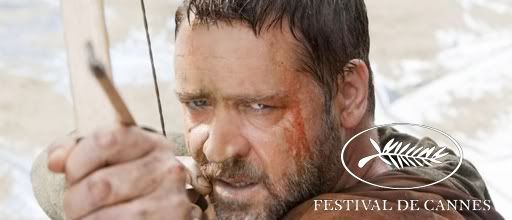 Ridley Scott's "Robin Hood" has been confirmed as the opening night film at this year's Cannes Film Festival.

With regular collaborator Russell Crowe in the iconic titular role, Scott's latest effort will continue his relationship with the fest having participated in 1977 with "The Duellists" and in 1991 with "Thelma and Louise." Like the latter though, "Robin Hood" will screen out of competition.

The reimagining of the classic Nottingham prince of thieves tale comes courtesy of writer Brian Helgeland ("L.A Confidential," "Mystic River") also stars Cate Blanchett as Maid Marion with a strong supporting cast that includes William Hurt, Matthew Macfadyen, Mark Strong, Oscar Isaac, Lea Seydoux, Scott Grimes, Kevin Durand, Alan Doyle, Danny Huston and Max von Sydow.


With all those big names involved, the premiere is sure to bring a lot of attention on the red carpet but will add little to the festival's prestige with the period-action blockbuster hitting French cinemas the same day and its worldwide theatrical release due two days later.

Other films which would be decent bets to feature at the Croisette include the likes of Woody Allen's "You Will Meet A Tall Dark Stranger," Julian Schnabel's "Miral," Alejandro Gonzalez Inarritu's "Biutiful," and plenty of others. Bruce Robinson's "The Rum Diary" starring Johnny Depp seems to be aiming for a Cannes premiere which would make sense as Depp's BFF Tim Burton is heading the jury this year.

Sofia Coppola's "Somewhere" and Kelly Reichardt's "Meek's Cutoff," however, have already been ruled out with Terrence Malick's "The Tree Of Life" and David O. Russell's "The Fighter" looking more unlikely with each passing day. This is all mostly speculation on our part though with everything to be confirmed in the last week of April.

The festival will run from May 12th to 23rd.