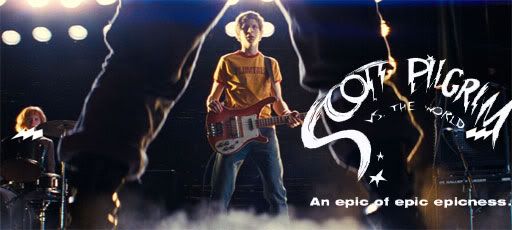 It's one of the most eagerly awaited teasers since "The Phantom Menace," at least if Edgar Wright's @replies on Twitter are anything to go by. Now, with six months to go before the film's release, the teaser trailer finally hits theaters in the U.K. with the release of "Kick Ass" tomorrow, and it's just gone online over at Apple. And...

Well, it genuinely looks like nothing we've ever seen before. The opening is surprisingly reminiscent of "Eternal Sunshine of the Spotless Mind" (or maybe it's just the brightly colored hair that's making us think that...), but once the action kicks off, it's the exact amalgam of kung-fu movie, videogame and comic book that we've been promised. Obviously, in teaser form, it's pretty frantic (and we're expecting that from Wright), but the cast seem to handle the acrobatics well. We're sure that people will continue to doubt Michael Cera in the part until they see more of him in context, but there does seem to be a marked difference from his previous roles, and, particularly in the final moments, like the scene with Anna Kendrick, he really does manage to sell us on what was arguably the director's most controversial choice.

An awful lot's given away, including all seven exes, most of whom don't make an appearance until the third act (at least in the draft that we've read), but we see our first proper glimpses of a potentially scene-stealingly douchebaggy Chris Evans as pro-skateboarder turned movie star Lucas Lee (who looks incredibly spot on from the graphic novels), Brandon Routh as vegan/psychic/bassist Todd Ingram, Mae Whitman as Roxy Richter (frankly, the George Michael/Anne reunion makes us "Arrested Development" fans a little bit giddy) and even Jason Schwartzman as the hipster head evil ex Gideon Graves.


Expectations really have been sky high for this one, and despite some very minor reservations, this teaser absolutely delivers. While seemingly delivering in a big way on the action front, there's enough here to make us believe that Wright, and co-writer Michael Bacall, have captured the sometimes melancholy tone that makes the books so special. We're hoping for a little more of a look at Kieran Culkin, Alison Pill, Mark Webber and Ellen Wong next time out, but consider our appetites whetted. Universal are going to make an absolute ton of money on it, we would say, and Wright demonstrates why Tom Cruise would approach him for "Mission Impossible 4" (incidentally, Wright confirmed on his Twitter feed this morning that he had been approached, but wasn't able to do it - there's still plenty of work to do to finish off "Scott Pilgrim"). And is that Beck scoring the trailer?


The film's official site has also just been updated, with some new images from the film, as seen in this article — head over there to check more out. August 13th seems like a long way away at this point. And what makes it even more unfair? We must have heard from two dozen people who have already seen the film and loved it, gah!

Btw update, the two songs in the trailer? We're right. A source close to the project — this guy named Edgar Wright — tells us that indeed they are both Beck songs, both originally written for the film (Beck is writing the Sex Bob-Omb tunes in the film). The first one sounds vaguely reminiscent of an Air instrumental mixed with Bob Dylan's "Lay Lady Lay" to us and then the second one is obviously more frenetic and crazy; a mix of Sonic Youth on amphetamines or something. And both are pretty damn cool. We can't wait to hear the entire soundtrack. There's going to be a treasure trove of music in the film as well and we know that Metric, Broken Social Scene, Dan The Automator and Japanese artist Cornelius will all be musically featured in the film as well.