Yesterday, we brought some news from a panel at SXSW with director Michel Gondry, who provided some updates on the status of his animated project "Megalomania," which is set to feature the voices of Steve Buscemi, Seth Rogen and Juliette Lewis. We caught up with Gondry in a one-to-one interview later in the day, spoke to him about this new documentary, "A Thorn In The Heart" (more on that later) and we picked up a few more tidbits on some of the French auteur's future projects.

First up, now in post-production and heading for its December release date, is "The Green Hornet," the Seth Rogen-led superhero movie, also starring Cameron Diaz, Christoph Waltz and Tom Wilkinson. Gondry was originally set to make his feature debut on a previous incarnation of the project 13 years ago, and was pleased to be able to return to the character and see it through, "It was great, because I sort of abandoned my son when he was young to do that [version] of the film. I moved to Paris and I felt guilty that I didn't complete the film. But that's his type of film. Now he's a bit more serious in film taste, but at his previous age, he was dying for me to make that movie, only because it was a screenplay I was more involved in, and it was crazy..."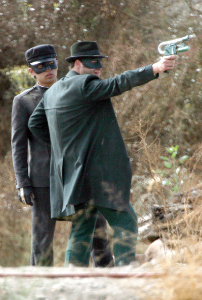 The script for the new version is by Rogen and "Superbad" co-writer Evan Goldberg — does Gondry wish that the project was closer to his original plan? "Sometimes [my son says] 'Oh, you should have done it the way you had it initially,' but there are still things I brought to it, personal things. So it will still have my imprint on it." What will it look like, the vision of Michel Gondry and Rogen/Goldberg? Some people can't picture what the combination will be on screen. "Me either!," Gondry exclaimed. "You will see when it's done. Like any movie, we're figuring the movie in the editing room, but I think when it's done it's going to be very spectacular." He also seems delighted with the cast, calling it a great "ensemble piece" and saying that "I feel very lucky to have got Christoph Waltz to play the villain." The now Academy-Award-anointed Austrian actor replaced Nicolas Cage at the eleventh hour.

Unfortunately, the news from another of Gondry's long-in-the-offing projects isn't so good. An adaptation of the Rudy Rucker sci-fi novel "The Master of Space and Time," with a script from "Megalomania" writer, and "Ghost World" graphic novelist Daniel Clowes, has been in the works for almost as long as "The Green Hornet," and had Jack Black attached to the lead role for some time. Disappointingly, the project seems to be dead now, "Unfortunately, that's not going to happen, but I'm going to do something similar with Daniel, another science fiction project... based on a comic book made by my son" (the aforementioned animated "Megalomania" project). [Update: we confirmed in another story that his new Daniel Clowes project and "Return of The Ice Kids" are one and the same.]

Also on the helmer's slate is "Return of the Ice Kids," about a group of teenagers who develop a form of water that makes you hear music when you drink it, which remains in active development, "It's still in the writing [phase]," Gondry said, noting that he himself won't write the project now. "I wrote two drafts, but then we hired someone else to write another draft, Keith Bunin ("In Treatment"). I don't think he's very well known."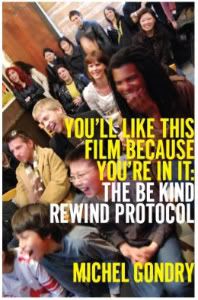 So, what's up next, after the completion of "The Green Hornet?" Interestingly, it seems to be a project that we weren't previously aware of, which was borne out of meetings with the publishers of "You'll Like This Film Because You're In It: The Be Kind Rewind Protocol," which is about community filmmaking, inspired by Gondry's last feature project. "When I wrote this book, I always wrote 'I did this,' or 'we did that,' and my publisher said 'we have to do something for the we and the I.'" Thus, the title for the project, "The We & The I," was born about kids on a school bus. Say what?

"It's about the group effect, how people in groups transform when the group is dislocated, because everyone jumps out of the bus at different times, there is a smaller group and how the relationships evolve." Is it another science-fiction project? "No, it's kids on a bus, it's more like a social thing. It's not [well-known] actors, it's going to be kids from a school in the Bronx. I love kids and just [regular] people too because they are not polluted by the medium. They come as they are and they have beautiful stories to tell, so I want to show that." It seems to demonstrate a return to the theme of community that has appeared in much of Gondry's recent work ("Dave Chappelle's Block Party," "Be Kind Rewind"), and is another gear-change for the director, going from super-hero tentpole to tiny indie drama.

This back-and-forth wasn't premeditated though. The film was originally intended to shoot last summer, "But then I got the "Green Hornet" project I couldn't let go. So I had to postpone it, and hopefully they won't be too old for the parts now." So "The We & The I" is next? "Hopefully, yes."

Stay tuned, we got a little more from Gondry including details on his secret project with Bjork. - interview by RP