Emotionally exploratory in nature, only occasionally affecting and often times not pulling its painful punches, while Michel Gondry's documentary, "The Thorn In The Heart" is eventually a semi-interesting and intimate look at family, what it is missing is the connective tissue of context that gives us true engagement.

Focusing on his septuagenarian aunt, Suzette Gondry — a school teacher from 1952 to 1986 in rural France — the film is obviously deeply personal for the filmmaker, a tribute of sorts to a unique individual. However, it takes Gondry far too long to convey a sense of emotion that speaks to the viewer and he fails, at least at first, to communicate just why this figure is so fascinating to him.


Absent from the picture is any sort of glue that connects us to the story or even attempts to tell us why we should care. And for a long time, the restless audience doesn't. There are no title cards, no voice-over and no context that tells us anything or points us in any narrative direction. For the first 40-minutes, give or take, we're wandering around, trying to figure out why we're watching fairly uneventful home movies of the Gondry clan. What's delivered in this first half is a first-person account of Suzette's life that can only possibly be of interest to his immediate family.

Add a layer of subtitles you're reading along to, and discovering her story while she tells it only becomes more disengaging, making "The Thorn In The Heart" a very dry, dull and long slog. However, if one sticks with the documentary — and some didn't during our SXSW Film Fest screening, there were noticeable walkouts that even Gondry himself spoke about on a panel the next day — they discover that eventually it becomes more than just an admiring paean to a matriarch, and shifts towards a "Grey Gardens" look at family dysfunction.



After the first half dispenses with the tepid history lesson of Suzette's teaching years (no offense Suzette), it finally arrives on some family drama, as she digs deeper into her own personal history. We ascertain some difficult and painful internal relationships and one that mostly centers on her own son, Jean-Yves, whom Suzette shares a troublesome relationship with. A quiet, 50-something man who came out of the closet at a time when homosexuality wasn't exactly accepted in rural France, it's through Gondry's probing and prying questions that we subsequently learn about Jean-Yves's nervous breakdown when his father passed away. The real dagger, however, is the fact that Suzette did not tell her children until days later, because of her fears about how it would devastate them (and in one case, ruin her daughter's university endeavors). A deeply resentful and bitter gulf opens up between Suzette and her children, and is seemingly never rectified, revealing a woman who is at times demanding and oftentimes cruel and mean-spirited, particularly to her son. An especially candid individual in person, Gondry is the same way through his lens and seems to make no serious efforts to sugarcoat any of the prickly situations, allowing for a three-dimensional portrait and not a simple hagiography.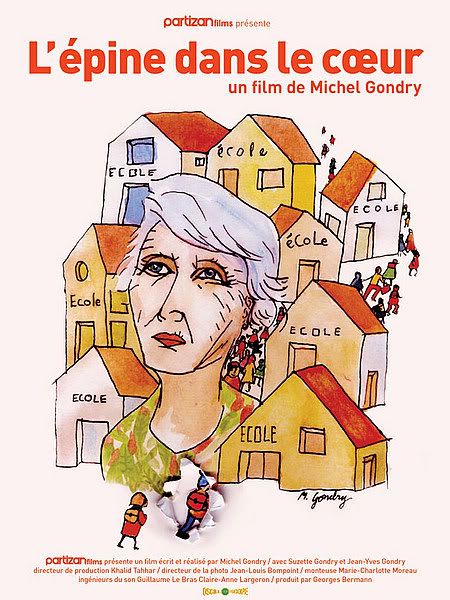 So "The Thorn In The Heart," while ostensibly about Suzette, really transforms into a portrait of family sufferings which begins to resonate with the wounds, and scars that all family interactions genuinely yield. As the documentary coalesces in the second half, it becomes quite heartrending and stirring in places and Gondry's deep affection for her and the rest of his cousins starts to finally surface. But these truly intimate and moving moments tend to arrive a dollar late and day short.

And even at a brisk 85 minutes, the odd construction (dull, then intriguing) feels long and not quite earning of its running time.

When we wrote about the reviews from Cannes, we said, "according to reports, it's either like watching boring home-movie documentaries about someone's aunt you couldn't care less about or a personal film of discovery, depending on who you are. Those that probably just want wow and flutter from Gondry may be deeply disappointed," and this is essentially true, only for us, we land somewhere in the middle of that quarterbacking assessment.

While there is some visual flair and moments that tend to light the picture up like a smile — a particular scene, set to a winning Charlotte Gainsbourg song with school children playing on a blue-screen, is super endearing — these moments tend to be far and few between.


But there is a lingering emotional value, just not one that will stick with most viewers and certainly not with the geeky, fanboy audience that will undoubtedly have zero time for this film. The scene from which the film derives its title is heartbreaking. Suzette tearfully says of her son and their problematic relationship, "he's like a thorn in the heart," and it's as brutally honest and wounding as anything Gondry has ever captured on screen. The second half is predisposed with a melancholy tinge that anyone with imperfect family relations should be able to relate to and many of these sequences are actually quite dolorous, but we're also not sure they're enough to salvage the picture on a whole.

"The Thorn In The Heart" will have limited appeal and perhaps could use a serious overhaul in the editing room, but clearly that's not going to happen. Gondry finished the film last year, has moved on to "The Green Hornet" and likely would never backtrack that far, but ideally this is what would need to be done (plus adding a voice-over).

Instead we have to settle on an uneven picture that, at its worst, is tedious and at its best, an emotional and delicate reconciliation of sensitive and painful family dynamics that often come apart before they come together. [C+]

Oscilloscope pictures will release the film on April 2nd in New York and on May 14th in Los Angeles.