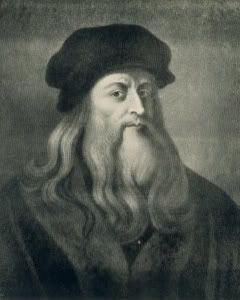 Leonardo Da Vinci was a true polymath, a man of many talents. Inventor. Scientist. Mathematician. Engineer. Anatomist. Painter. Sculptor. Architect. Botanist. Musician. Writer. And now, thanks to Warner Bros, he's set to add 'Action Hero' to the list. The studio, flush with the success of "Sherlock Holmes," has picked up a treatment from "Hitman" producer Adrian Askarieh entitled "Leonardo Da Vinci and the Soldiers of Forever," which sees Da Vinci as a member of a secret society, battling Biblical demons in a story "involving secret codes, lost civilizations, hidden fortresses and fallen angels."

Da Vinci's a facinating figure, and we're not entirely surprised that someone's come up with this idea. Among his sketches were early prospective designs for the helicopter, the tank, wings to enable flight, and shoes to walk on water (although none were ever built), so that's three or four set-pieces right there. Da Vinci has long thought to have been homosexual (he was tried, but acquitted of sodomy in 1476), but we imagine that'll be roundly ignored in the context of a big action tentpole, unless the studio are feeling very brave.

A writer is currently being sought, and Roy Lee and Doug Davison ("The Departed") are also on board to produce. Again, we enjoyed "Sherlock Holmes" far more than we thought we would, so we won't dismiss it immediately, but Askarieh's credits, which mostly involve still-in-development video game adaptations, don't bode that well. Still, between this, "Holmes," Guy Ritchie's King Arthur project, Francis Lawrence's "Marco Polo" movie, and the reimagining of "The Three Musketeers" all in the works at the studio, can an "Avengers" style team-up movie be far behind? After all, it worked for "The League of Extraordinary Gentlemen." Didn't it?