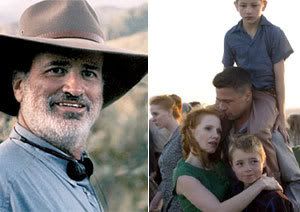 Details have been scarce on Terrence Malick's forthcoming and highly anticipated "Tree Of Life," but what has been vaguely known all along is that the story was centered around a family in 1950s Texas and featured some kind of thematic tie-in to the universe at large.

Last fall, composer Alexandre Desplat spilled the beans a little bit, addressing some of the rumored cosmic elements surrounding the film saying:

It's a deep story about love, how you transmit love, through your family; from the parents to the children. And the evolution of mankind... since the creation. Heavy things, but with everyday life things. That's one of the great ideas that Terrence has been working on. We see a family in the '50s in Texas in their everyday lives, but there's more, of course, connections to the big picture.
Now in anticipation of the announcement of the film's inclusion at Cannes tomorrow morning (we hope), Empire talked to

Brad Pitt

about the film, and he let loose a few more details on some of the more otherworldly elements of the story:

"It's this little tiny story of a kid growing up in the '50s with a mother who's grace incarnate and a father who's oppressive in nature. So he is negotiating his way through it, defining who he's gonna be when he grows up. And that is juxtaposed with a little, tiny micro-story of the cosmos, from the beginning of the cosmos to the death of the cosmos. So that's where the sci-fi – or the sci-fact – comes in."
Confirmation of the cosmic elements to the film, already rumored to be part of the film, definitely has us even more excited for the scope and scale that Malick will be tackling in this film. We've also been hearing the film will address the afterlife — and may even contain scenes shot in this form — and given the shape the project seems to taken, that seems like a good bet. From Pitt's comments, it sounds like Malick plans to metaphorically play the emotion/development of a father/son relationship against larger, universal tides.

As we previously reported, "Tree Of Life"
is a drama that ferries between a father in the 1950s (Pitt) and his son Jack (

Sean Penn

)

,

now grown up decades later. We also know that the film revolves around this father-son relationship and a tragedy that befalls the family. Or as one synopsis goes, it's "t
he story of a family who must come to terms with a devastating loss. In doing so, they discover life's most important lessons of unselfish love and forgiveness." Pitt apparently gives a performance that resembles

Robert De Niro

's turn as the tyrannical patriarch in "

This Boy's Life

" which will certainly be a far cry from anything he's done on screen before.

Pitt also reminds Empire that

Heath Ledger

was at one time attached to the film in his role:
"He was gonna do it at one point, and then he was puling out for one reason or another, and we were involved ["we" meaning Pitt's production company Plan B], so I just stepped in." Why Ledger dropped out of an opportunity to work with Malick is something we'll just never know.

Update:

Interesting a close source to this project who have given us tips in advance that have turned out to be 100% correct (and that you've already read on this blog) says the reason Ledger didn't appear in the film was not because he dropped out, but because he

failed

his second cast physical, and therefore couldn't be taken into consideration for the part.

So now that "Tree Of Life" is looking more and more like a done deal, can we start talking about when we might see the companion documentary "Voyage Of Time" and how that ties into the larger cosmic scope of the picture?