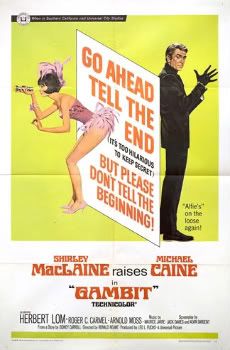 Doug Liman is one of the more fascinating directors currently working in mainstream cinema. With a somewhat unorthodox work process, which often involves last minute recasting or reshoots, and a stylish, unconventional technique for big action movies, we definitely count ourselves as fans, even if we don't love everything he's done (*cough"Jumper"cough*). With his next film, the Sean Penn/Naomi Watts drama "Fair Game," gathering some great buzz ahead of its debut in competition at Cannes, he's striking while the iron is hot and starting to line up his next projects.

He's been developing a personal project with "Precious" screenwriter Geoffrey Fletcher about the Attica prison riot, and he was reported to be in negotiations to helm Warner Bros' new version of "The Three Musketeers," but a new project's turned up on the director's dance card, and it's a particularly exciting one. Deadline reports that the helmer is now circling a remake of the 1960s Michael Caine/Shirley MacLaine caper movie "Gambit." Falling somewhere between "Vertigo" and "Charade," the plot follows a debonair cat burglar who, attempting to scam a billionaire out of a priceless statue, enlists the help of a waitress who bears a striking resemblance to his target's late wife.

Yeah, it's another remake, but excitingly, the script for this one was written by Joel & Ethan Coen. It's been knocking around for years, with the likes of PJ Hogan, Hugh Grant, Colin Firth, Ben Kingsley, Sandra Bullock and Jennifer Aniston all attached at various points, but producer Mike Lobell ("Honeymoon In Vegas") has persisted, and although the film's not currently set up anywhere, the attachment of Liman would be a step in the right direction; he's an almost perfect choice for the material. Does this mean he's turned down "The Three Musketeers," or more likely, would that shoot first? It remains to be seen.

Meanwhile, "Fair Game" is still without a distributor, although Summit are thought to be close to picking it up, perhaps hoping to repeat their Oscar success with "The Hurt Locker" this year. Liman discussed the film with Movieline yesterday, saying that he's not concerned that audiences may be turned off by the film's politics because "It's a really great movie," and that Naomi Watts is "the best she's ever been." Considering how transcendentally great she is in "Mulholland Drive," we really are counting the days until we can see the film; obviously Liman's going to talk up his own work, but the tone is one of genuine pride in the film.