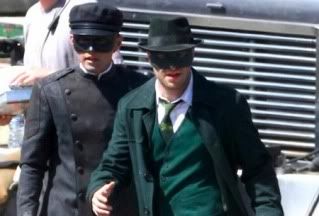 Trouble, or rational thinking, has struck the post-production process of "The Green Hornet," which now sees itself moving from a loaded Christmas release season into mid-January. Nikki Finke reports that execs have considered "3D enhancements" to goose up what reports suggest the studio is unhappy with. Finke, always the gossiper, also hints that other studios are claiming from what they've seen that "Hornet" is "unreleaseable," but Sony distributed "The Ugly Truth" last year so clearly few movies under their banner could be classified as unreleaseable.

The 3D conversion discussion for "Hornet" is not new speculation, and according to Seth Rogen who spoke to Drew McWeeny at HitFix it was something that was conceived from the film's early stages and moreover since none of the blue screen or effects shots have been started, they will be able to approach the format from scratch: "Evan Goldberg, Michel Gondry and myself could not be more excited about going 3D. The truth is that this is something that we have wanted since the very first conversations we all had about the film. A lot of the visually driven sequences Michel came up were first conceived for a 3D movie. After watching the first third of the film and working with Sony Imageworks, the studio decided now would be a perfect time to commit to 3D. Since it was always a dream of ours, the look of the film complements it perfectly. None of the effects shots have been started, none of the blue screen shots have been composited, and this lets us do all of it in 3D. What gets me most excited is the fact that Gondry is so enthusiastic about it. I think that Gondry's visuals done in 3D will give us something we've never seen before."

While it's hard to separate the gosh-we're-excited studio speak from the genuine enthusiasm, it certainly isn't the first time Gondry has talked about 3D (he's currently working on a 3D project with Bjork) and we could believe it was discussed before filming got underway.

Given the work that seems to be involved, as well as the crowded December calendar, we can't say we're all that surprised by the release date change to January 14th. December was host to "Tron Legacy" and the next "Harry Potter" installment, with even more films possibly being converted to the 3D format, so this was definitely an issue of not enough screens being available for "Hornet." The 3D conversion either suggests the ultimate last-minute doctoring to boost the prospects of potentially middling box office performers or truly validation of Sony's faith in the project, but 3D or not, "Hornet" was not going to set the world on fire with that sort of competition. The visual of Seth Rogen running around in a cheap mask doesn't sound like an image fit for an IMAX screen per se, but Sony always knew this was going to be a risky project, so giving it more of a chance to succeed might just be business, and not a studio polishing one of their turds.

In the end, there's never anything fun to see in January, so now we get a 3D Michel Gondry movie from the writers of "Superbad" and featuring Hans Landa as a villain. We're not complaining.