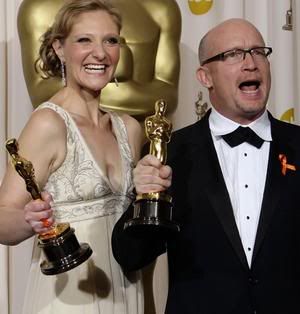 The last ten years have seen a broadening of the theatrical audience for documentaries as never seen before, with the likes of Michael Moore's films and "An Inconvenient Truth," and one of the most acclaimed of this new wave of non-fiction filmmakers is Alex Gibney. The absurdly prolific director won an Oscar for "Taxi to the Dark Side," as well as strong reviews for the likes of "Enron: The Smartest Guys In The Room" and "Gonzo: The Life and Work of Dr. Hunter S. Thompson," and has his latest film, "Casino Jack and the United States of Money," about disgraced lobbyist Jack Abramoff, set for release in a few weeks.

That's the first of an astonishing five films that Gibney has in various stages of production, and Anne Thompson at indieWire is reporting that HBO have picked up U.S. TV rights to three one of them, which is also completed and playing Tribeca: "My Trip To Al-Qaeda," which based on the one-man show by Pulitzer Prize-winning journalist Lawrence Wright, which follows the rise of fundamentalist Islam.

Gibney is on a roll this year, he also has "Freakonomics" (which Magnolia recently picked up) an anthology documentary based on the bestselling book by Steven Levitt and Stephen J. Dubner, which Gibney's directed one of the six segments for, alongside the likes of Seth Gordon ("The King of Kong"), Morgan Spurlock ("Super Size Me") and Eugene Jarecki ("Capturing the Friedmans"). The film closes the Tribeca Film Festival at the end of the month, before hitting theaters in November.

Then there's an as-yet-untitled film about disgraced New York governor Eliot Spitzer, which will show in work-in-progress form (the first clip from the film debuted earlier in the week). Gibney's fifth film of this year follows Lance Armstrong on the 2009 Tour De France, and should be released by Sony before the end of the year. Terrence Malick, please take note of this man's work ethic...

We originally reported that HBO picked up three of Gibney's documentaries. Not enough coffee, we apologize for the error.