Just a few more days to go until the official lineup for the 63rd Annual Cannes Film Festival is unveiled, but speculation continues to run rampant in what is being called a "very difficult, complicated year" by festival director Thierry Fremaux.

First up, what we can tell you is Clint Eastwood's "Hereafter," Darren Aronofsky's "Black Swan" and Gus Van Sant's still untitled new film (once called, "Restless") are definitely not going to be headed to the south of France. With Eastwood and Aronofsky's films still in front of cameras as of February this year, we never thought they would make the red carpet. That said, Van Sant's film wrapped at the end of the last year and we're a little surprised there wasn't a push to get it festival ready. Incidentally, we reviewed the script last fall and the project is definitely outside Van Sant's usual wheelhouse and perhaps he didn't feel it was the right fit for Cannes. We're guessing a Toronto unveiling will be more likely.

But with just a few short days left until Thursday's announcement, festival organizers are still scrambling to watch the films they have for consideration. Apparently as of Saturday, Doug Liman's political thriller "Fair Game," Mike Leigh's "Another Year" and Stephen Frears' "Tamara Drewe" had yet to be screened by the selection committee. We'd be surprised if "Tamara Drewe" ended up being slotted as, from what we hear, it's apparently still quite far off from being completed. That being said, if Frears really wants it at the festival, and if organizers like enough of what they see, it won't be the first time a still-wet print was delivered in order to make a Cannes screening.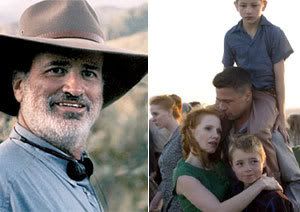 Complicating matters for festival organizers further is the unknown status of Terrence Malick's "Tree Of Life." While pretty much every executive at Apparition has said the film would be headed to Cannes, the picture is still in the editing room. With only twenty Competition spots available, there are some suggestions that Thursday's announcement won't be complete, leaving some slots open to be filled later. We won't be surprised if this happens as Cannes undoubtedly wants to give Malick as much time as possible to complete his film. Clearly, festival organizers want every opportunity to try and fit in the most anticipated film of the year (in other words, don't freak if the film is not announced come Thursday, but still joins the line-up in the upcoming weeks... or not).

At this point, the only films that are "locks" are the titles we've pretty much known about all along. Jean-Luc Godard's "Socialisme," Woody Allen's "You Will Meet A Tall Dark Stranger," Abbas Kiarostami's "Certified Copy" and Oliver Stone's "Wall Street: Money Never Sleeps" will all appear. Allen and Stone's films will screen out of competition, while Godard and Kiarostami's films are likely to be included in official festival programming.

Also among the list of (almost) sure-fire entries are Takeshi Kitano's "Outrage," Lee Chang-dong's "Poetry," Olivier Assayas' "Carlos the Jackal" (one we've assumed would be there for a while now), Bertrand Blier's "The Sound of Ice Cubes," and Cristi Puiu's "Aurora." There were also brief rumblings that Christopher Nolan's "Inception" might make an appearance as well, which would be one helluva of an unveiling, but those rumors have cooled for now.