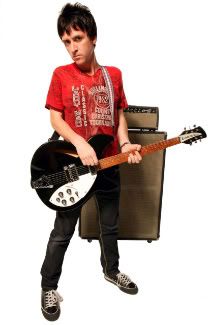 Back in December, we reported that Johnny Marr was scoring the forthcoming mystery pic, "The Big Bang." The film, which stars Antonio Banderas, Delroy Lindo, William Fichtner, Sam Elliot and Snoop Dogg is about a detective's investigation into the death of a stripper who no one has ever seen, which is compounded by the fact that everyone he talks to ends up dead.

When we first heard about the film, directed by long time TV producer and unproven film director Tony Krantz, it sounded like a straight-to-video movie to us, and judging by the NSFW sizzle reel/trailer below, the movie looks absolutely dreadful. Featuring terrible dialogue, two dollar set designs and the best/worst pickup line ever, the film has all the makings for a permanent home as filler in a cable channel's 2 AM slot.

However, with half the trailer set to Radiohead's "Recknoner" it seems the filmmakers have saved whatever good taste they have for the soundtrack. Krantz was apparently a fan of Marr's group The Healers and asked him to do the soundtrack, so we have some hope that at least Marr's musical contributions will make the film somewhat worthwhile. Speaking with NME, the guitarist revealed that he's "done new stuff which is kind of atmospheric and almost Warp [Records]-like. Making the guitar sound electronic. Where other people would have used orchestras I've made the same effect using guitars." Sounds pretty cool actually. We're generally pretty big fans of the Warp catalog here, and using it as a benchmark for a soundtrack is definitely markedly different than your standard movie score fare.

"The Big Bang" is aiming for a fall release, with the soundtrack to hit stores as well.