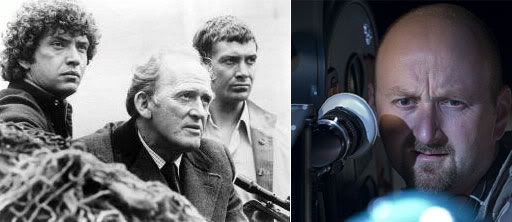 Neil Marshall once seemed like he might turn out to be one of the best genre directors of the new generation; "Dog Soldiers" was an unashamedly entertaining B-movie, while "The Descent," while not loved by everyone at The Playlist, scared the living shit out of this writer in theaters.

Unfortunately, it's been more or less downhill since then; "Doomsday" was a willfully adolescent video game cut scene tribute/rip-off of John Carpenter, that aimed for "Escape From New York" and ended up as "Ghosts of Mars," while we caught up with new film "Centurion" at SXSW, and found it a technically well-executed chase picture with no soul or character.

Marshall's pairing with Sam Raimi next for the viscera-in-your-face spontaneous combustion horror film "Burst 3D" (from the script, we can imagine that the exploding-people gimmick will get very, very old very, very quickly), but with "Centurion" hitting U.K. cinemas today, he's announced one more project to Empire; he's set to direct an update of the 1970s British TV series "The Professionals." The show, which aired from 1977 to 1983, followed an ex-cop and an ex-soldier in a secret law enforcement division called CI5, who use unconventional, sometimes illegal means to fight crimes that can't be handled by the police. It's been described as a bit of a British "Starsky & Hutch."

The series was the kind of laddish, unreconstructed action fare paid tribute to in "Life on Mars," but Marshall wants to bring it into the 21st Century; "They deal with anti-terrorism, assassinations, political intrigue. The slogan, or kind of the tagline for the film, is 'Fight fire with fire' and that was their whole thing... Primarily, its going to be an exciting movie, but there's an inherent political angle on the story. We want to contemporise it but keep everything that made the original great, just turn it into a real wham-bam rip-roaring adventure movie."

Marshall also reveals that he doesn't seem to have seen "Hot Fuzz"; "These guys are like Butch and Sundance or Riggs and Murtaugh. But this is a British buddy movie, which I don't think I've seen before..." Right, and there would never be humor in a Neil Marshall film so we wouldn't have to worry about crossover. Like we said, we've more or less given up on Marshall at this point, so we don't really have a problem with him taking on another derivative, brainless actioner, so long as we don't have to go and see the thing.

Here's an episode from the original show.