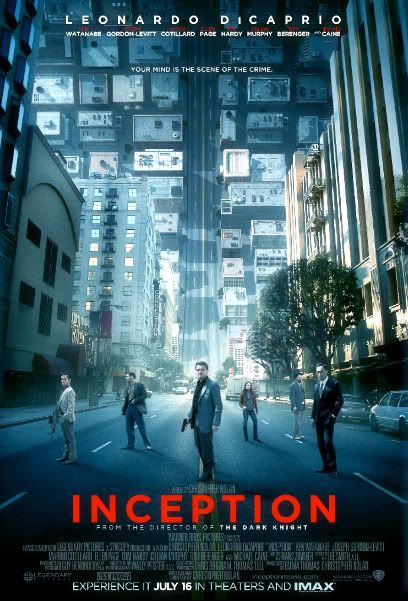 And or: New 'Inception' Poster Suggests Dream Thieves Are Cool Under Pressure Even If The Street Will Raise Up To Crush You

With "Iron Man 2" seemingly turning out to be a disappointment, and most of the big summer releases being made up of the uninspiring likes of "Prince of Persia," "The A-Team" and "Dinner For Schmucks," Christopher Nolan's "Inception" remains the great white hope for those of us who like a little intellectual nourishment with our eye candy.

A final trailer for the sci-fi heist movie (at least, that's what we think it'll be...) is expected to debut next week with "Iron Man 2," but in the meantime, NolanFans have discovered what is, presumably, the final one-sheet for the movie within the online viral game for the movie. The poster highlights the key money shot from the last trailer, that of a city impossibly bending in on itself, along with many of the film's cast posing iconically. The poster isn't in a particularly high-resolution, but as best as we can tell, it features (from left to right) Joseph Gordon-Levitt, Tom Hardy, Leonardo DiCaprio, Ellen Page, a bearded figure that we guess is Cillian Murphy (it could be Lukas Haas, but Murphy gets named billing, and the figure seems too young to be, say, Tom Berenger), and Ken Watanabe.

Without seeming like we're desperately clutching at straws, it's interesting to note that 1) Ken Watanabe receives second billing, despite being one of the least well-established names in the film, suggesting that he has a major, major role to play in proceedings (which is said to be the villain), and 2) Tom Hardy made the poster; while, from the little information that has leaked, we understand that Gordon-Levitt has the best role in "Inception," casting Hardy in the lead role in Mad Max reboot "Fury Road" seems less risky by the day.

When a filmmaker lands a commercial and critical success of the likes of "The Dark Knight," they tend to get total creative freedom on their next picture, which can be a mixed blessing, as the self-indulgent likes of Michael Cimino ("Heaven's Gate"), The Wachowski Brothers ("Speed Racer") and Peter Jackson ("King Kong") have all proven. While we're as excited as anyone by what little we've seen of "Inception" to date, we will retain a certain degree of caution until we've seen the finished product with our own eyes. Having said that, the poster is one of the best we've seen so far this year, and makes the wait til July 16th that much longer.