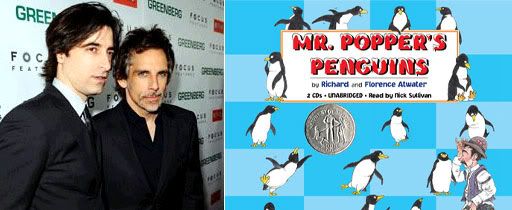 We recently reported that Ben Stiller had three options in front of him as his next film after "Greenberg": directing the Mark Friedman scribed "Help Me Spread Goodness"; joining Cameron Crowe's gestating "We Bought A Zoo" or the kid's film "Mr. Popper's Penguins." Well, it appears things must have gone really well on the set of "Greenberg" as Noah Baumbach is in talks to direct Stiller in the children's adaptation. The two seem to be vibing pretty well these days. In addition to "Greenberg," Baumbach is also doing some script work on the potential comedy "Tower Heist" for Stiller.

Based on the 1939 Newbury Award winning children's book, "Mr. Popper's Penguins" is "the tale of a house painter whose dreams of Arctic exploration prompt him to write letters to real explorers. One of them sends him a penguin, which he keeps in an icebox. Soon, Mr. Popper receives a female penguin from a zoo and before he knows it, he has a litter of 12 beaked birds. When the penguins start to eat him out of house and home, Mr. Popper forms Popper's Performing Penguins, a stage act that goes on tour and causes mayhem at every stop."

While it might seem to be a major change in direction for Baumbach who has largely focused on domestic dramas, bear in mind he did work with Wes Anderson on the script for "Fantastic Mr. Fox" and we even heard recently that the genesis of that project actually started with Baumbach first and then he and Anderson met and the project took on a life of its own (which Anderson obviously went on to direct, and this interview seems to contradict claim). While we've generally steered clear of any children's movies involving Stiller in the past, the premise sounds like a lot of fun and we trust Baumbach to do it justice. That said, it would undoubtedly be a mix of animation and live action which would definitely be a first for the director whose small, ensemble films are quite a different beast than the undertaking of a major family tentpole which this film would most certainly be.

If Baumbach does sign on, we're not sure where in his pipeline of upcoming projects it will fit. He was recently attached to direct "

The Emperor's Children

" this summer but that project still needs to line up finances before the cameras start rolling. Given how closely Stiller and Baumbach seem to be getting on, and with both their schedules more or less clear, we could see this one taking priority very quickly. But we're hoping 'Emperor' — which already has an attached cast of Keira Knightley, Eric Bana and Richard Gere, and may shoot this summer — finds its clothes first.

Update: as you can see below in our comments section. Baumbach and Stiller were on Charlie Rose last night (video here) and Baumbach's comments suggest that "Mr. Popper's Penguins" could be next depending on what project Stiller chooses to do. "This movie for me was a great experience. It showed me that can have an experience that will change how you feel about what you want to do next and this movie really did that for me," Still said echoing the idea that "Greenberg" was an important event.
Needled by Rose about what project Stiller would tackle next he asked the actor one more time. "I don't know you'll have to ask him," Stiller said pointing to Baumbach. To which Rose responded, "So if [Noah] had something great, he would move to the front of the line then." Baumbach's answer was, "Yeah, for sure, I honestly feel... like he's amazing. So yeah, hopefully."