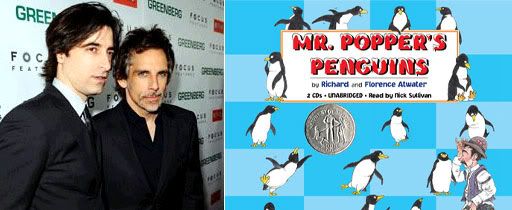 Despite what seemed to be a lot of movement for a potential re-team of "Greenberg" director and star Noah Baumbach and Ben Stiller, it looks like the adaptation of the children's book "Mr. Popper's Penguins" will be moving on without Baumbach.

The LA Times is reporting that the director is no longer attached to direct the project which is set up at Fox. While no official word has been given why the director has left, our guess is that while Baumbach was an inspired choice to helm the picture Fox, who are behind the "Night At The Museum" franchise with Ben Stiller, probably wanted to play it safe by handing the film to someone in the Shawn Levy caliber of directors. And while some of you might rejoinder "Hey! Wes Anderson directed 'Fantastic Mr. Fox,' that was at Fox Searchlight, the smaller arm that's more likely to take riskier (and more interesting) chances.

We're ok with this because what's next is much more interesting. Baunbach is attached to direct "The Emperor's Children" -- with an attached cast of Keira Knightley, Eric Bana and Richard Gere -- this summer, but last we heard financing still needs to come into place and with Knightley shooting Cronenberg's "The Dangerous Method" and Gere shooting "The Double" in May/June, we're guessing the project has shifted dates a little deeper into the summer. The director also has a completed adaptation of "Prep" ready to go for Paramount, but again, that project needs to find financing and a cast before it can move forward.

While we were intrigued at the prospect of Baumbach helming a kid's pic, it didn't particularly excite us. His strength has always been in depicting discord between lovers, siblings, family and friends and this is the world in which we think he thrives. We hope either one of the aforementioned projects gets moving or maybe Baumbach will give his old friend Wes a call and perhaps they can dust off that script they've been quietly working on.