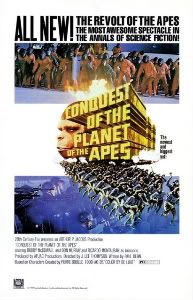 With the stink of 2001's "Planet of the Apes" receding slightly now that it's no longer Tim Burton's worst movie (congratulations "Alice In Wonderland"), 20th Century Fox are moving full steam ahead on a reboot of one of their key franchises. "Caesar" (which now seems to be the official title, at least for now), a prequel to the original films, was originally written by Scott Frank ("Out of Sight"), with the intention of it becoming the follow-up to his underrated directorial debut "The Lookout." Frank fell off the project some time back, and Jamie Moss ("Street Kings," the upcoming "X-Men: First Class") and Rick Jaffa & Amanda Silver ("The Relic") were brought on to rewrite the script. Which was then, predictably, turned down by seemingly every director in town including the likes of Kathryn Bigelow, Robert Rodriguez, Tomas Alfredson, The Hughes Brothers, Pierre Morel and Scott Stewart ("Legion"). That's right, even Stewart -- the man who remade "The Terminator" with a machine-gun wielding angel, turned it down.

The project eventually found a helmer in the shape of Rupert Wyatt, the director of the little-seen British prison movie "The Escapist," and now, according to the Twitter feed of Production Weekly, the project has moved into pre-production, setting up offices in Burnaby, British Columbia, prepping for a shoot next July.

The biggest cheerleader for the franchise managed to get his hands on a copy of the script, titled "Caesar: Rise of the Apes," which seems to be more-or-less a remake of "Conquest of the Planet of the Apes," following the titular monkey as he becomes super-intelligent, and leads an uprising against man. Apparently, the script is stuffed with homages to previous films in the series, because obviously the 13-25 demographic loves nothing more than references to "Beneath the Planet of the Apes."

Ultimately, even he can't seem to sum up much enthusiasm for the script. From our point of view, the only reason to care about this is Wyatt -- we coincidentally rewatched "The Escapist" over the weekend, and it really is one of the most assured directorial debuts we've ever seen in recent memory. But considering Fox's past form in running roughshod over young directors (hey, whatever happened to Gavin Hood?), we worry for the guy. All in all, we'd rather see "Stop The Planet of the Apes, I Want To Get Off"...