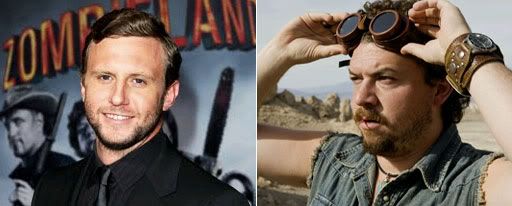 So after toying with the idea of directing "Mission Impossible IV," it appears "Zombieland" director Ruben Fleischer has decided to go with the comedy "30 Minutes Or Less" instead. According to Production Weekly the film will shoot this July in Grand Rapids, Michigan. Danny McBride, who has been in talks for the lead, would be perfect for the role, but still hasn't officially signed on. Meanwhile, /Film is reporting that he's actually supposed to play one of the whitetrash lead goons in the picture; either way, we're just excited to see McBride involved with the project.

And thank god Flesicher took an original script, rather than the fourth tired edition of a McFranchise. The temptation to grab a big tentpole payout gig is high in Hollywood, but in the long run he's made the better career choice.

Written by Black List 2009 faves Matthew Sullivan and Michael Diliberti, the duo scribes actually had two screenplays in last years list, "30 Minutes Or Less" and the perhaps obviously titled, "Comic Con."

"30 Seconds" is being billed as a picture "about a pizza delivery guy on an unlikely caper," but that's a slight teaser for something much bigger, twisting and involved. Yes, McBride's Will character — should he take the role — is a slacker-ish going-nowhere pizza delivery man with few prospects, but the film is more of a thriller-ish buddy comedy about two estranged friends who have to begrudgingly work together to save one of their lives.

Its hard to discuss the logline without getting into spoilers, so bail now if you don't want to know what the true story is, but at the same time, don't get too worried, all of this info will be in the first synopsis and trailer — it's all first act set up. But it is spoiler-ish, be forewarned.

Essentially, it's about two childhood best friends, Chet and Will, who have a deep falling out one night over drinks when Will confesses his love for Chet's sister Kate. Chet, a school teacher and the more successful of the two, gets upset and says things he regrets and Wayne, down and out and miserable because Kate is moving away — his secret lifelong crush all these years — also drops a litany of terrible history that should have remained unspoken. Their friendship would be irrevocably broken, if fate didn't intervene. Across town, two dumbass, whitetrash would-be-hoods Dwayne and his sycophant friend Jay are plotting to have Dwayne's rich father killed so they can reap the inheritance. But they need to pay someone to do the deed, so they hatch a wild plan, based on Jay's backwoods skills; make a bomb, strap it to some unlucky soul and force him to rob a bank so they can pay their hitman. Will of course becomes that unfortunate sap and soon he's begging Chet to help him race against time. He's got eight hours to deliver the money before the bomb strapped to his chest goes off. The film starts here.

If the film has a familiar feel, its that of David Gordon Green's stoner action comedy "Pineapple Express" and could be a big summer comedy hit in that vein, but the friendship theme notes, plus the small romantic angle with Chet's sister Kate, gives it a bit more heart than you'd imagine, yet never at the expense of the comedy.

The film is full of rather fun, juicy roles. Will could easily be played by Danny McBride, but if he opts for Dwayne, it opens up this role for a younger character of the same ilk. The old

Seth Rogen

of yore, could have easily pulled this off before he became all slim action hero ("

The Green Hornet

") and we suppose he still could, but it feels like he's moved beyond roles like this. Most likely though it'll be a newer, up-and-coming actor we thinks. Chet is the straight man, outraged over the fact that he's risking his career in this situation (we could see a

James Marsden

or

Justin Long

type), Dwanye (potentially McBride) is a scheming egomaniacal dumbass, who's also quite brilliant in his nefarious planning and Jay is the video-game playing, bomb-making nerd who kisses his best friends ass at every turn (call this one the villains bromance if you like). Whoever plays Jay should be a skinny, pasty-white guy in his mid 20s. Almost like the nebbish, uncooler version of Jay from "

Clerks

," but Dwayne, like that character, clearly thinks he's badass. We could see Kate being played by someone like "Zombieland" actress

Emma Stone

, but it is a bit of a small role and her star is rising, so it might have to be someone else, again, up-and-coming unless Stone is just thrilled to be working with Fleischer again.