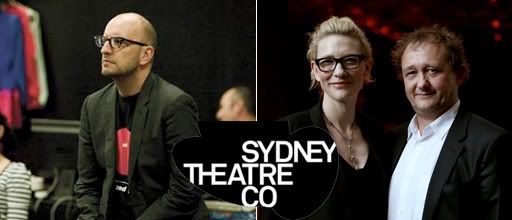 Steven Soderbergh's secret film shot while directing "Tot Mom" for the Sydney Theatre Company has been revealed to be a theater-set comedy titled "The Last Time I Saw Michael Gregg."

The film centers on a theater owner couple named Lottie and Ned, played by Essie Davis and Rhys Muldoon, who are described as "a stylish blonde and a writer who is adapting a Chekhov play" and is likely inspired by the Sydney Theatre Company's owners, Cate Blanchett and Andrew Upton.

Lead Muldoon quickly affirms though that "it wasn't a pisstake of the Sydney Theatre Company or Cate or Andrew at all. I made my guy quite an angry person and Andrew is certainly not that. And also my guy is pretty much sleeping with every woman he can get his hands on, which is very much not Andrew as well.''


An Australian-bound rough cut of the improvised film completed by Soderbergh in Ireland reveals the story to be "an entertaining comedy -- laugh-out-loud funny at times -- about a theater company staging Chekhov's 'Three Sisters'" that is "told backwards from a triumphant opening night" and "runs through a series of disasters during rehearsals, featuring characters apparently inspired by real-life identities."

One of those characters appears to be a mock of avant-garde STC collaborator Barrie Kosky. The unnamed character shares Kosky's intials and physical resemblance with one film's funniest moments showing the character ordering his cast to "lie on the floor in a touchy-feely exercise to expel the air from their bodies."

Co-starring in the comedy are the likes of Wayne Blair, Zoe Carides, Darren Gilshenan, Glenn Hazeldine, Genevieve Hegney, Damon Herriman, Peter Kowitz and Emma Palmer and, while the project was apparently "a bit of fun" that was shot during Soderbergh's down time, the consummate professional that is Soderbergh ended up taking it quite seriously even filming on the eve of his departure at the opening night party for "Tot Mom."


"How great that the actors got a taste of working on a film with one of the true masters,'' Blanchett said. ''You can tell everyone had a good time with it and it was the perfect way to balance the intensity of working on the play.''

The prolific Soderbergh now has this, the Spalding Gray doc "And Everything Is Going Fine" and spy-actioner "Knockout" hitting this year with virus-outbreak-thriller "Contagion," his "Liberace" biopic starring Michael Douglas and Matt Damon and possibly his 3D rock 'n roll musical "Cleo" with Catherine Zeta Jones all still in the works. On top of that, Blanchett and Soderbergh's collaboration on "Tot Mom" (their second after "The Good German") was such a success that the director is also planning to return to STC next year for another play. Remember when he said he wanted to retire?

While the Sydney Morning Herald says that the film may screen at the at the Sydney Film Festival, later this year, our sources tell us that Soderbergh has no intention of screening the film and intended it to be a gift for the actors and nothing more.