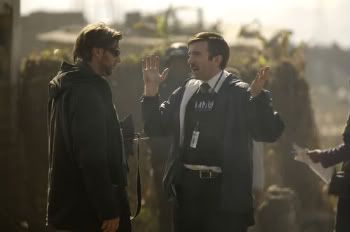 True sleeper hits are fairly rare these days, in the age of movie blogs and tracking polls, but last year's "District 9" was one of the purest kind -- arriving without stars or a pre-existing property to make a healthy $200 million worldwide, from a budget a fraction of that. Obviously, Sony were keen for a sequel, and director Neill Blomkamp has already admitted that he's interested in continuing the world he's created.

A report from MarketSaw yesterday suggested that we may be seeing it sooner than we thought, as they claim a source from within WETA says that "District 10" is in pre-production to shoot in South Africa and New Zealand in October, with Blomkamp returning to direct and Jackson again producing. The site also suggests that Jackson's adaptation of "Mortal Engines" has been green-lit, and will be his next directorial effort.

The only problem is, not only does this contradict almost everything we've heard about a "District 9" sequel, but it also comes from a site who are notoriously unreliable, to put it kindly. Aside from being to 3D what the Taliban are to Islam, their previous 'exclusives' have included a new 3D version of "Gremlins," and a new trilogy of "Star Wars" movies, to be directed by Steven Spielberg and Francis Ford Coppola, both of which were provably false, and are yet to materialize. On "District 10," there's been a similar response -- Cinematical reached out to Sony for comment, and were told that the story was "not true."

Sometimes studios will deny stories because they're being kept under wraps, but sometimes they'll deny because they're flat out not true, and with the fact that Blomkamp has already said that a sequel to "District 9" won't be his next film, and that Jackson has said he probably wouldn't produce the follow-up, we're inclined to believe that this story is, once again, complete horseshit.