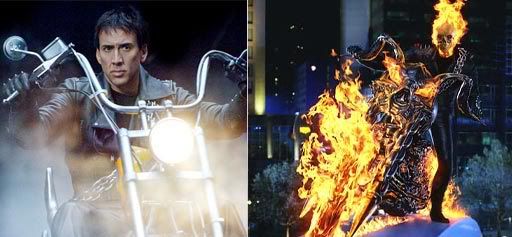 The current wave of successful comic book films, "Iron Man," "X2," "The Dark Knight," is a bit of a renaissance era where comic book fans don't have to wince every time they enter the theater.

But the ratio of cringe-inducing comic-book adaptations to genuinely great ones is still pretty high.

Other than "Daredevil" and the risible "X-Men Origins: Wolverine" (the latter of which unequivocally demonstrates its all about the director and not the characters or stars), perhaps one of the most egregious comic-book adaptations to reach the screen is "Ghost Rider" directed by never-to-be-Oscar-nominated filmmaker Mark Steven Johnson (who incidentally also mangled "Daredevil") and starring one comic-book obsessed star Nicolas Cage.

A project botched wholeheartedly by Lionsgate/Columbia, the picture was a Marvel adaptation that centered around the origins of stunt motorcyclist Johnny Blaze (Cage) who gave up his soul to become a hellblazing vigilante and to fight against the power hungry villian Blackheart, the son of the devil himself.

Oooh, scary. Yes, it was a pretty silly comic to adapt in the first place and something as pulpy as that probably deserved to stay on the page where it works — a straight adaptation is just too goofy for audiences today and sure enough, it proved far too goofy for everyone (though we're willing to be if you dig through the AICN archives, someone there liked it; side note, we're willing to bet the D.C. equivalent, "Jonah Hex" will also be as clumsy on the screen when it eventually gets there).

Anywho, there's been talk of a sequel pretty much since the film came out in 2007 (or for several years now anyhow), with Nicolas Cage even recognizing how piss poor the movie was, but with more good intentions promised for round two (as one point, he wanted to do his own reboot).

Now the word from Vulture is that Columbia is so desperate to get a sequel going, they'll move forward with or without Nicolas Cage if he can't get his schedule in gear. Why so serious? Well, like every good film studio conclusion the decision is being based off quality concerns money — or at least the idea of dollars to be made in the near distant future.

See, rights to the Ghost Rider character revert to Marvel (and Disney its parent owner) if a film isn't set into production by November 14, 2010 (this is the exact same reason Akiva Goldsman is trying to reboot "The Fantastic Four" series, because rights will eventually lapse, but this might be an "hey, it's in development" excuse). Man, that's less than seven months away. What might have just happened is someone from legal might have just flagged up the ladder, "uhh, guys, a potential cash cow is going to slip away soon."

So like any astute and thoughtful studio, Columbia would rather rush this project into production rather than spending quality time in development so it doesn't come out the other end like a digested turd. But they are apparently asking for an extension (this will cost them) and Cage while still interested, is busy with a third Jerry Bruckheimer-led "National Treasure" film that is scheduled to shoot in the fall (and will land the tax-owing actor the pretty payday he desperately needs).

Making matters worse, with "Spider-Man" pushed to 2012, Columbia has no 2011 tentpole. Cue Scott Gimple and Seth Hoffman (TV writers for "Flash Forward") that have apparently penned a "Ghost Rider" 2" script under the overseeing aegis of Dave S. Goyer (original director Mark Steven Johnson won't be back producers recently said). Some Sony insiders are convinced the character is so unknown to the public that a sequel can't be made without Cage, but Columbia might try if they're in a pinch anyhow (last we heard it was going to be called, "Ghost Rider: Spirit Of Vengeance, " lolz). Welcome to Hollywood everyone, where sound decisions are made on daily basis. Best of luck, guys.